The Samsung Galaxy Note 4 is the company's best effort in the smartphone segment, but in the face of the Apple iPhone 6 Plus, it faces a competition like never before. Apple's first entry into the phablet realm carries the unique touch of its creators and is ready to show how iOS does on a properly large screen.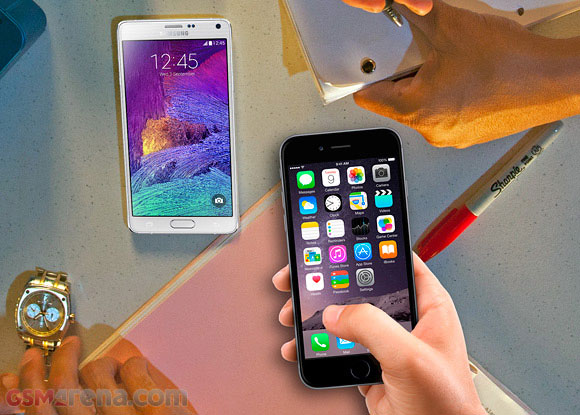 We already gave you our take on how the two fare against each other but now it's time to hear your thoughts about it.
The first category we pit the iPhone 6 Plus against the Galaxy Note 4 is design. The Apple phablet looks a bit different to previous generations Apple handsets and we are not sure it's a change for the better. On the other hand Samsung has stepped its game and made the Galaxy Note 4 one of its prettiest devices yet. Is that enough to close the gap to the Apple iPhone 6 Plus – vote below.
iOS versus Android is an ever going debate. The iPhone 6 Plus runs iOS 8, while the Galaxy Note 4 opts-in for Android 4.4 KitKat with a ton of added functionality, some of which is courtesy of the S Pen.
We've extensively covered both, so you don't have to go with your gut on this one. Which one is easier to use and offers the more useful features is a subjective matter, though, so share your opinion by voting below.
On paper the Samaung Galaxy Note 4 has a huge advantage when it comes to camera capabilities – larger sensor of twice the resolution and 4K video recording. However, as we found out the optical image stabilization of the iPhone 6 Plus works way better, so it's not as one-sided as you may guess.
And now for the final verdict – which of the two monster phablets do you prefer? Also feel free to share your reasoning in the comments section below.