We already compared the specs of the new Apple iPhone 6 to its main Android rivals, the Samsung Galaxy Alpha and the Sony Xperia Z3 Compact.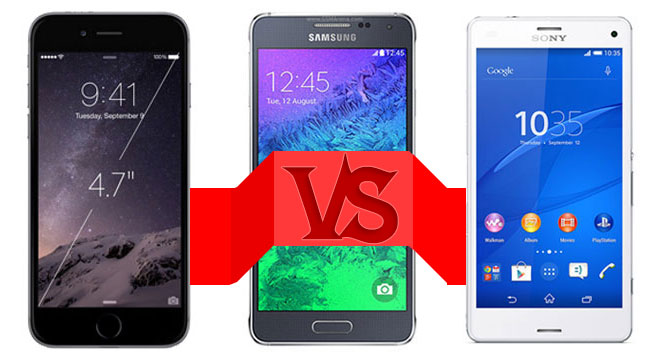 Now, it's time to reach out for your take on the matter. Which one the three do you find best? The grown-up iPhone 6, metal Galaxy Alpha or waterproof Xperia Z3 Compact?
The compact high-end smartphone is something that we've wanted for a while now. And this fall we feel properly treated. The Galaxy Alpha may not boast a 1080p screen, but its metal frame is elegant and the Snapdragon 801 (or Exynos 5 Octa) is Speedy Gonzales material. The same goes for the Sony Xperia Z3 Compact.
We're yet to see how the iPhone 6 handles with the new A8 chip. Preliminary benchmarks don't look promising, but in the end, it's all about the user experience.
So, when voting, we'd like you to consider the whole suite of features the phones offer. All of the contestants are well-rounded devices, which have a unique feature or two over its competitor. The first round pits the Apple iPhone 6 against the Samsung Galaxy Alpha.
Then, we go to the second match today. The Sony Xperia Z3 Compact meets the iPhone 6. Which one will walk out victorious is for you to decide.
Voting ends in a week, so you have plenty of time to make up your mind. Check back then to find out the results.