New week, new weekend poll and this one is sort of epic. The LG G3 is upon us, flaunting its QHD 5.5″ display in the faces of the competition. What competition you ask? Naturally, the Samsung Galaxy S5, Sony Xperia Z2, HTC One (M8) and, for good measure, the Oppo Find 7.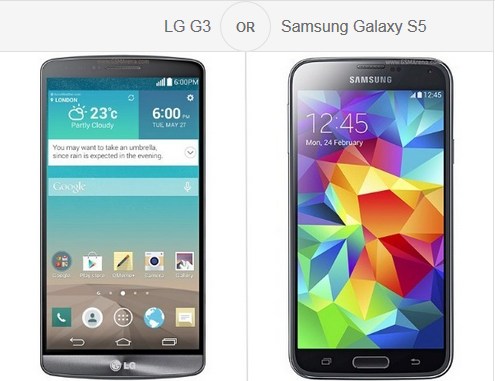 You don't need us to convince you that this one is hard to miss on. Your anticipation in the polls is going to give us an idea how you feel towards the LG G3. So, without further ado, let's kick things off.
LG G3 vs Samsung Galaxy S5
The first duel is between the LG G3 and the Samsung Galaxy S5. Both South Korean corporations are constantly comparing their products, trying to prove that their latest flagship is much better than the one of their neighbors. We're excited to see how this one would turn up. Both phones are plastic and offer an incredible amount of software features in their respective heavily customized user interfaces.
Naturally, the G3 trumps the Galaxy S5 in the display size and resolution department, but Samsung's flagship offers a heart rate sensor and a IP67 certification, making it fearless of the elements.
LG G3 vs Sony Xperia Z2
The Sony Xperia Z2 is the next flagship phone to stand in the LG G3′s way to the top. With its 20.7MP camera, premium glass design and even better waterproof qualities than the Galaxy S5, the Xperia Z2 is certainly a formidable rival. However, LG's flagship is more compact, packs a stunning QHD display that makes full HD screens weep and its camera boasts laser auto focus so it certainly shouldn't be written off.
LG G3 vs HTC One (M8)
The LG G3 now stands against what is arguably its prettiest rival in the face of the HTC One (M8). The metal-clad flagship wowed the world with its design and stereo BoomSound speakers. However, those traits have took their toll on its size, and the 5″ One (M8) is similarly sized against the 5.5″ LG G3.
LG G3 vs Oppo Find 7
Finally, we end this weekend poll fiesta with a real QHD battle. The Oppo Find 7 is among the very few Android phones to feature an ultra-high resolution display and it's only fitting to compare it against the G3. Granted, we are still a few months away from being about to get hold of the Find 7, but it's interesting to see your take on it.
Our LG G3 review should be available for your reading pleasure early next week, so make sure you come back to to learn all about the smartphone.