We've already ran several benchmarks to test the LG Optimus G and its Snapdragon S4 Pro chipset. But we thought of one more – Geekbench 2, which you might remember from the recently leaked iPhone 5 scores.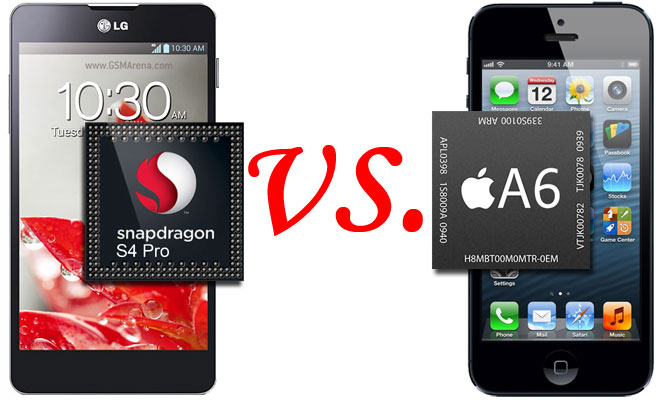 So, how does LG's new superphone stack up against Apple's latest handset? Find out after the jump.
The Optimus G takes the win here with an advantage in integer performance (though the iPhone holds its own), while floating point performance is closer but still comes out in favor of the LG smartphone.
The Optimus G has double the RAM that the iPhone has – 2GB vs. 1GB – but it seems that Apple got faster chips than LG.
The overall results are 1723 for the Optimus G and 1601 for the iPhone 5 (note that these scores are not yet confirmed as coming from the iPhone 5).
It should be noted that the LG Optimus G is running an non-final Android 4.0 Ice Cream Sandwich and other droids have shown a notable increase in Geekbench scores when updated to Jelly Bean, so we can expect the Optimus G to pull further ahead.
But how does it compare to other high-end droids? It's not as fast as we would have imagined (especially after that massive advantage in Linpack). We tested another LG quad-core phone, the LG Optimus 4X HD which is a Tegra 3 device. It managed a very respectable score of 1661.
An ICS-running One X with Tegra 3 comes pretty close too (1634) and a Galaxy S III actually manages to beat it (1845).
The HTC One S is not too far behind either (1589) despite having the same CPU architecture as the Optimus G, but only half the cores (and it's on ICS too).
Here's a chart to help you visualize the difference in scores. All phones besides the iPhone are running Android 4.0 ICS.
Geekbench 2
Higher is better
Samsung Galaxy S III




1845

LG Optimus G




1723

LG Optimus 4X HD




1661

HTC One X (Tegra 3)




1634

iPhone 5




1601

HTC One S




1589
We have our suspicions that the LG Optimus G will do even better when its software is finalized (our unit tends to get hot, which throttles the chipset), so we'll re-run the tests when we get a release unit.