Yesterday I told you that Google is about to integrate a web-based VoIP client in Gmail. Well, the new service was launched later on following my yesterday's blog post about the rumors of it. So, if you have a Gmail account both voice and video calls are only a web browser plug-in and a few clicks away from you.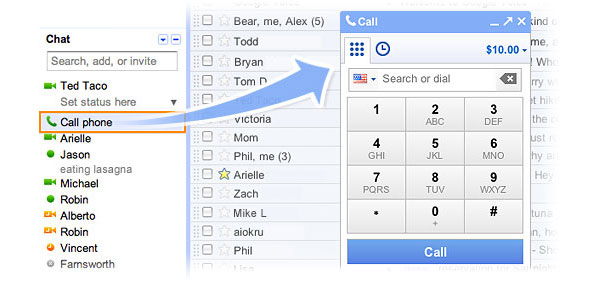 As I mentioned yesterday, you don't have to download a dedicated application. You only have to get a plug-in for your web browser in order to have the new service up and running on your computer.
Then, go to your Gmail inbox, change the language setting to "English (US)" (if your language by default isn't English) and look for the "Call phone" link which should be added to the Chat list (Google has just started enabling the new feature in the Gmail accounts out there so you might have to wait for a few days until it gets yours).
Calls to the USA and Canada will be free at least till the end of 2010 while the prices to other destinations are said to be very low. You can check them out here. And if you want to add credit for calls outside the USA and Canada, just follow that link to see how it's done.