Vodafone launches the Webbox, a keyboard which enables Internet on your TV, via a GSM/EDGE mobile data connection. Unfortunately, 3G isn't supported yet, but a 3G version will follow later on.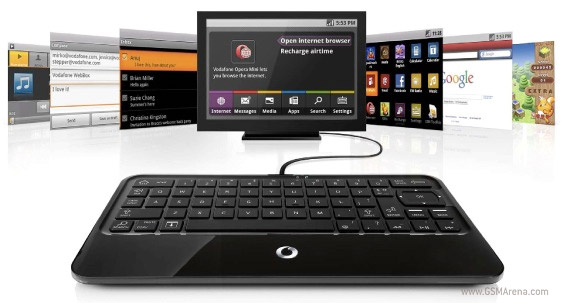 Connecting the Webbox to the TV sets is done by the standard RCA cables. Plug them in, push the power button on the device and within seconds you are online. The Webbox runs Android 2.1 Éclair, which means it comes packed with various software, including Opera Mini on board, which compresses the size of web pages up to 90%. You can send SMS, emails or even connect to Facebook through an app.
As with any Android OS, there are some useful apps baked in as well, such as a calculator, a notes app, calendar, English dictionary, YouTube app and more. You can also listen to music and watch videos through the TV.
As Stephen Elop, the CEO of Nokia pointed out today at the MWC:
…80% of people around the world are within cell phone range, but only 20% of the population are online…
And if you think about it, the Vodafone Webbox makes perfect sense, as it will allow people who can't afford access to PC's or smartphones to easily connect to the Internet using their existing mobile data connection.
The Vodafone Webbox is targeted at developing countries, and Vodafone says it'll first launch in South Africa, followed by Ghana, Kenya, India and Turkey. In South Africa it'll cost 749 Rand (about $102). For that money Vodafone gives you the keyboard itself, a 2GB SD card and 100MB of web traffic.
Here's a quick presentation of the device.