The rumors on Panasonic G1′s successor, the G2, and their bro, the G10, have been circulating in the internet for a little while but as of yesterday the veil has been lifted and both cameras saw daylight for the first time.

Panasonic DMC-G2
The more interesting among them, the Panasonic DMC-G2, features a touch sensitive 3″ tilt screen which makes taking pictures easier than ever – touch focus works like in mobile phones (e.g. iPhone 3GS), you only have to tap the object on the touchscreen.
AF tracking is also on the specs list like it has been on G1′s but this time we see HD video recording, too: the G2 is can shoot 720p videos in AVCHD Lite format. The new G2 has a faster Venus Engine HD II processor. Like its predecessor, the G2 has an inbuilt electronic viewfinder which most of their competitors lack.

The Panasonic G2 is expected to start shipping by the end of May. The body will be selling for 599 euro, while the small kit lens, the new 14-42mm lens, will cost you another 100 euro. The double zoom kit which includes the G2 body as well as the 14-42mm and the 45-200mm lens is expected to cost 999 euro. Ouch!
Panasonic DMC-G10
The G10 comes 18 months after the first Micro Four Thirds camera, the G1. The Lumix G10 has no touchscreen. And it has no tilt screen either. However, it is the lightest interchangeable lens camera with a viewfinder out there and its price tag is way lower that G2′s. So, it's worth a look.
Like the G1 and the G2, Panasonic G10 is a mirrorless interchangeable lens camera based on the Mirco Four Thirds standard. Both, the G10 and the G2, lack in-body image stabilization. The G10 has a 12.1-megapixel Live CMOS sensor and a Venus Engine HD II processor (like the G2).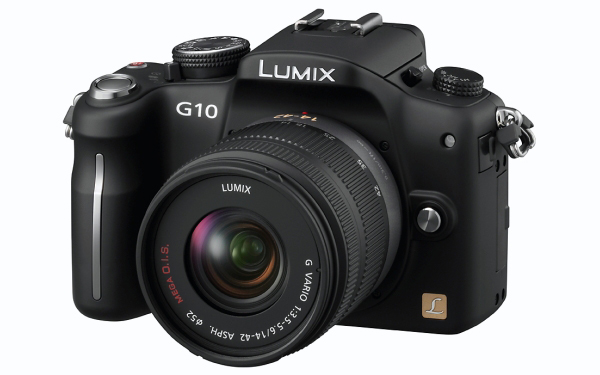 And even if the display ain't touch sensitive and can't move, it still is a high resolution one (with 460 000 pixels) and measures 3 inches. The G10 records 720p video as well, however, this time the format is Motion JPEG. And since HD videos need high capacity memory cards, SDXC cards are warmly accepted.
The Panasonic DMC-G10 is expected to hit the stores in June. It can be yours for 549 euro (a 14-42mm kit lens is included). That sounds like a much better offer but everyone is still waiting for the mirrorless interchangeable lens cameras to get even cheaper. Currently, you can get a more affordable and more capable DSLR camera for less money.