Toshiba has thrown their hat into the tablet ring with their FOLIO 100 Android tablet. The 10" tablet is powered by NVIDIA's Tegra 2 platform and runs Android 2.2 Froyo. Toshiba are already shipping the tablets across Europe, here's what you get…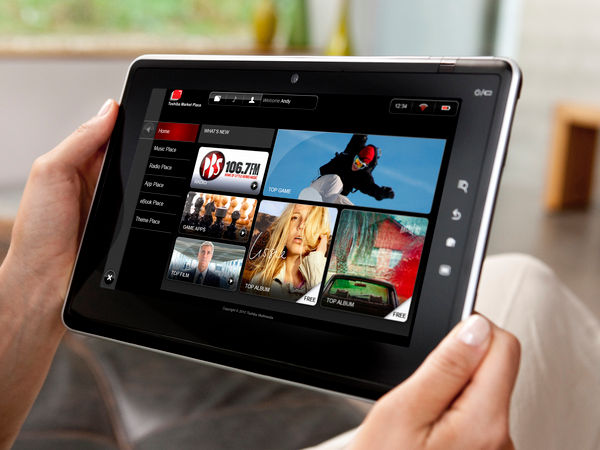 The Toshiba FOLIO 100 is a 10.1" tablet with a capacitive screen of 1024×768 pixels resolution. It runs Android 2.2 Froyo with some custom UI enhancements and supports Flash 10.1.
The FOLIO can't access the Android Market, you'll have to use the Toshiba Marketplace (or just install apps from other repositories – Android lets you do that). As for the Flash support, a plug-in "to allow playback of Flash videos" will be available in mid-November – I'm guessing this plug-in will put the Tegra 2 muscle to do the heavy lifting in the decoding.
The reason the Toshiba FOLIO 100 doesn't have access to the regular Market is because it lack mobile phone functionality (it's a Google rule). Still, there's Wi-Fi b/g/n with DLNA and Bluetooth 2.1. Mobile broadband will be available on "certain models in certain countries" – perhaps those will get Market access eventually.
The FOLIO 100 packs 16GB of built-in memory, expandable via SD/MMC card reader, one USB port (both a client and a hub) and a mini HDMI port. There's a 1.3MP video call camera too.
The Toshiba FOLIO 100 isn't a small tablet by any means – it measures 281 x 181 x 14mm and weighs a hefty 760 grams (this is almost x86 tablet territory). Anyway, check out our hands-on from IFA.
As far as prices go, the non-3G version of the FOLIO 100 will cost 329 pounds in the UK, 399 euro in Italy and 429 euro in Germany. For the 3G-enabled model, it's 499 euro in Italy and 529 euro in Germany. These prices are comparable with the Samsung Galaxy Tab (which does have phone functionality and Android Market access). Whether or not the FOLIO tablet will arrive in the US is still under question.
LG has a Tegra 2 Android tablet on the way too – at least the rumor mill says so.
Source (PDF file)