LG (like pretty much every tech company around) has been working on a tablet of their own. But they made a hard choice – Android 2.2 Froyo is just not suitable for tablets they said (Google said the same thing) and even though the hardware was ready, the tablet got delayed, waiting on the software.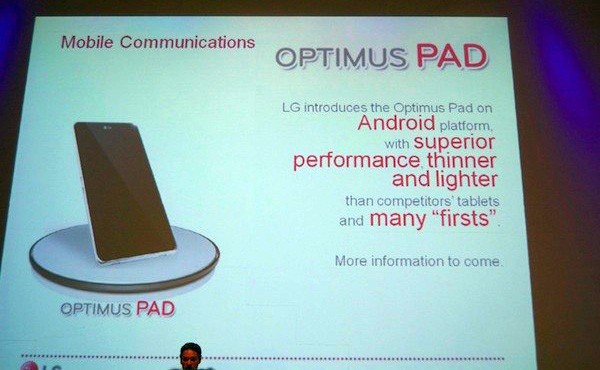 And Android 3.0 Honeycomb seems to be it – a new leak gives us a peek at some juicy details of the LG tablet, or the LG Optimus Pad, as it will be called…
The leaked slide is promising superior performance and the rest of the rumors are in the same vein – the 8.9" tablet will be running on NVIDIA's Tegra 2 platform with a dual-core processor.
Those are all the details for now, along with promises of the LG Optimus Pad being thinner and lighter than the competition.
From the looks of it, Android 3.0 Honeycomb will have support for dual-core CPUs. We've seen plenty of mobile dual-cores announced, but none in what essentially is… a smartphone platform. And a 1GHz+ dual-core processor should give an Intel Atom a run for its money – poor netbooks, they just might become an endangered species.