Toshiba unveiled its own ultra-affordable Windows 8.1 tablet, the Toshiba Encore mini (model number WT7-C16). Priced at just $120, the Encore mini sports a tablet sports a 7″ 1,024 x 600 screen with 16:9 aspect ratio and 5-finger capacitive touch sensor.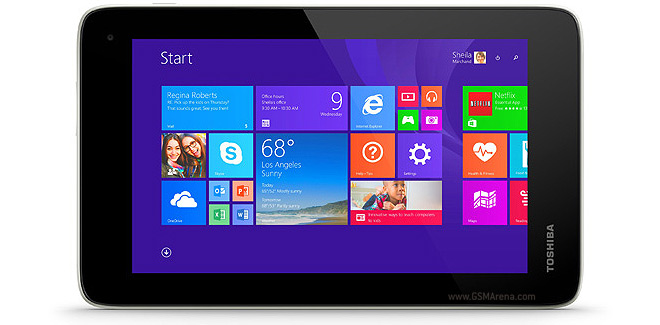 The tablet is powered by a quad-core Intel Atom Z3735G processor (1.33GHz clockspeed, 1.83GHz Burst Frequency).
As usual with these low-cost Windows tablets, the memory is fairly limited – 1GB RAM. The built-in storage is on the low side too, 16GB, but with a microSD card slot (for cards up to 128GB) this restriction is less limiting.
There's a microUSB port on the tablet and a microUSB to full-size USB cable included in the box for attaching USB accessories and storage. The tablet lacks an HDMI port or a docking connector (so you can't plug in a big screen), instead Toshiba is offering a Bluetooth keyboard (currently enjoying a small price cut to $42).
The Toshiba Encore mini also has Wi-Fi b/g/n connectivity and Bluetooth 4.0. There's a VGA front-facing camera with microphone for video calls and a mono speaker. On the back is a 2MP main camera. The tablet weighs 354g and comes in Winter White. Its 13Wh battery promises just over 7 hours of use time.
Again, the Encore mini price is $120, you can grab it right now. Before you do that, consider the $99 Windows tablets from smaller makers like Emdoor and Kingsing (they have 8″ higher-res screens and HDMI).