A leaked recent build of the Windows Mobile 6.5 upgrade (6.5.3 or whatever it's called) is the source of even more new features that we haven't seen on Windows Mobile smartphones before. This time it's threaded email messaging.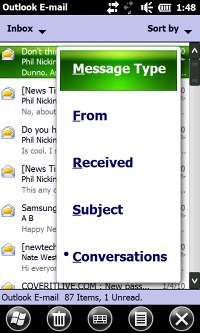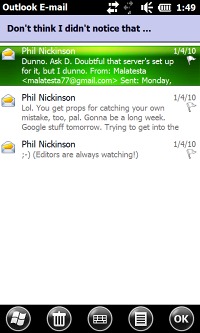 You've seen us comment on some of the new features that are expected with the yet unannounced update of Windows Mobile 6.5. The leaked unofficial ROMs are all over the place and users have been experimenting with them for quite some time. Every now and then, new features come up bringing the mobile OS a step forward in the right direction.
Well, here is a quick video walkthrough of the new email function that was unearthed in Windows Mobile 6.5 build 23517.
Well, a step forward it is, but for me the WinMo email client is still quite a few steps short of perfection. But I'm sure some people will be really happy with the new functionality, so I'm glad this mobile OS keeps expanding. Windows Mobile 7, hurry up, please.