I've seen screenshots of a facelift version of Windows Mobile 6.5 before, which itself is a facelift version of an aging OS. Now, the Internet rumor mill strikes again and delivers screenshots of a newer version WinMo version – v6.5.3.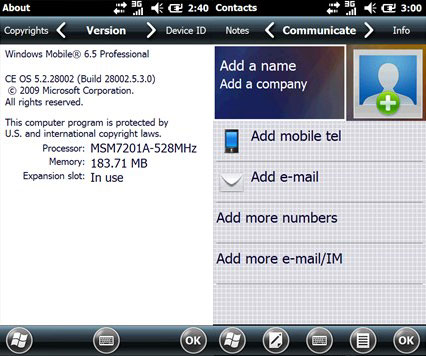 They actually show a UI that seem better suited for thumb operation, not just larger versions of the old controls.
At first, these changes were slated for 6.5.1, with speculation that the screenshots were in fact from the next major version of the OS – Windows Mobile 7. Now, we've made the jump to 6.5.3, skipping over 6.5.2 and there's still nothing official – just firmware leaks. I don't see many major changes between 6.5.1 and 6.5.3, just the clock application, which shows off the new look of some UI controls.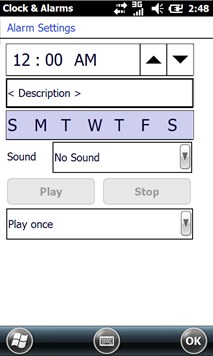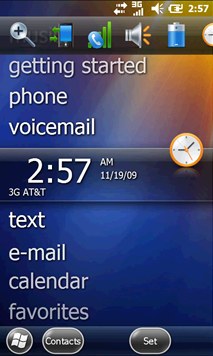 Screenshots of Windows Mobile 6.5.3, build 28002
As for the changes between the current WinMo 6.5, which we reviewed a while back, is that the iconic Start menu is no longer on the top. It's now placed at the bottom (and it's just the Windows logo, instead of having the actual "Start" label) on the reskinned bottom row. This bottom row also houses the virtual softkeys, which are now rendered as nicely rounded pill buttons. *cough*Aqua*cough*… Also, there's support for gestures, which I hope means support for multi-touch gestures too, seeing how Windows Mobile phones recently jumped on the bandwagon with the HTC HD2.
Anyway, looking at the redesign and the screenshot of Internet Explorer Mobile 6 the similarities are too great to overlook. It's just a guess, but it seems to me that this is how WinMo v6.5 was supposed to look like in the first place, but the only part that was production ready in time was IE Mobile. Maybe Microsoft should have held out until everything was ready, because the generally negative reviews that WinMo 6.5 are not really helping in selling the new OS to licensees (many of which are obviously switching to the free Android).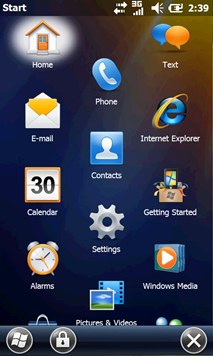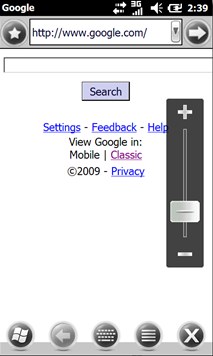 Those two belong together, don't they? It's the new WinMo homescreen and the already available IE 6
I'm sure the guys at the xda-developers forum have already cooked up ROMs compatible with the most popular phone makes and models, but their forum is currently down again so I can't really get you any working links.
You can read more about where these leaked WinMo builds come from.
Source: wmpoweruser.com, wmexperts.com
Comments are closed.