Today, on the WWDC 2013 stage, Apple's vice president Phil Shiller announced the revamped MacBook Air product family. The 11-inch and 13-inch MacBook Airs have the same chassis, but use the recently released 4th generation mobile Intel Core CPU called Haswell.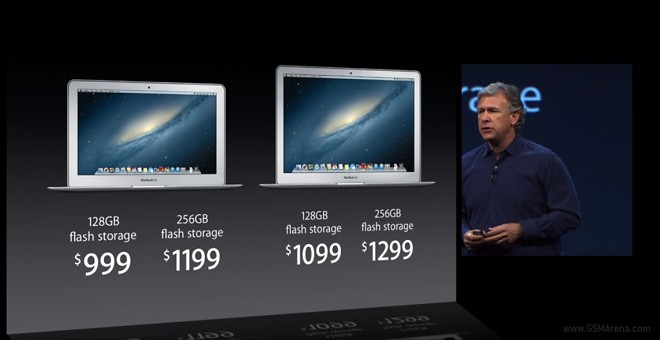 These have faster built-in graphics and have highly touted power-sipping features allowing for much longer battery life for mobile products. The MacBook Airs make good use of the new internals and will now offer up to 9h battery life for the 11.6-incher and up to 12-hour for the 13.3-incher. But that's not all.
The updated lineup also offers faster Wi-Fi 802.11ac support for up to 3x faster and far reaching Wi-Fi connection and they have new SSD drives that are up to 45% faster.
The 11.6-inch model costs the same but gets double the SSD storage – $999 for 128GB and $1199 for the 256GB version. The 13.3-incher not only gets the double storage, but it's also some good $100 cheaper than the previous generation.
Best of all, the new MacBook Airs are available starting today.