You may or may not have already heard that Apple has geared its previous generation iPad – the iPad 2 – with a new processor. The chipset is still the same but the new core processor inside is built on the 32nm technology rather than the 45nm the original iPad 2 used. This isn't news – it was uncovered a while ago along with the discovery that the new Apple TV uses such chips too.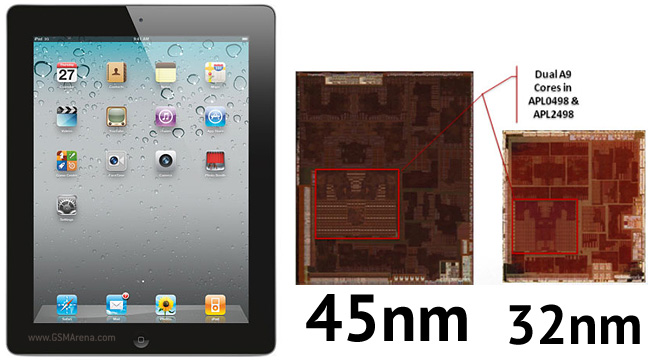 What's interesting however, is that today we saw one of the first reviews of this updated product and by the looks of it, the new chip manufacturing technology makes a special difference in the power efficiency department.
You see, in layman's terms, the manufacturing process used to create a computer chip is one of the primary factors for a chip's power efficiency. Apple used a 45nm process for both the iPad 2 and the new iPad, except some of the newer iPad 2 units. Those use an Apple A5 SoC built by Samsung on a 32nm process.
AnandTech got their hands on an iPad 2,4 (which is reportedly the hardware model number for this new iPad 2) and ran extensive benchmarks on it. If you're wondering about the model numbers, 2,1 is the original iPad 2 (Wi-Fi only), 2,2 and 2,3 are the GSM and CDMA versions respectively.
Anyway, here's what the tests show – the iPad 2,4 lasts over an hour and a half of web browsing longer than an iPad 2,1, over two hours more of 3D gaming and about two and a half hours more of watching videos. The clock speed and hence the performance of both the new and old iPad 2′s is the same, but the more power-efficient model runs about 1°C cooler.

You can check out AnandTech's article for details on the new process and more numbers.
In case you're wondering why Apple didn't choose the 32nm process for the new iPad (which has a much larger battery and runs quite hot), the answer is that the new process still doesn't allow chips to be manufactured at the rate Apple needs them (those new iPads are flying off the shelves). The Apple TV and some iPad 2′s won't bust the manufacturing capacity though.
Still, looking forward to the announcement of the new iPhone, we can hope that Samsung's facilities will be up to speed by then and be able to cope with the huge demand for the latest phone from Apple that should be coming out this year.