Apple has just unveiled the new iPhone 5, but it provided very little information about its A6 chipset.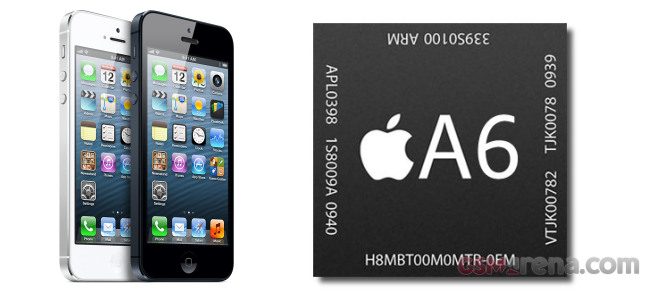 All we got was that the A6 offers a 2x faster processor and 2x faster graphics compared to the A5. That's it – there was no mention of architecture, clock speed or even core count. And since the floor is open for speculations here are some thoughts on what might be hiding under the iPhone 5 hood.
As of today there is no quad-core chipset with native LTE support, which Apple explicitly stated as available in the iPhone 5. And if the iPhone 5 had two more cores than its predecessor, Apple would have without a doubt made a big deal out of it on stage. So a quad-core CPU is most probably out of the question.
This leaves us with three dual-core options:
• A dual-core Krait processor
• A dual-core processor, based on the new Cortex-A15 architecture
• A dual-core Cortex-A9 chip, clocked somewhere between 1.5GHz and 2.0GHz
The dual-core Krait processor seems the most probable option to me. Chipsets with Krait processors have proven to be at least twice as fast as the Cortex-A9 dual-core solutions (such as the Apple A5). Krait chipsets have already been used in lots of phones so it seems understandable why Apple would leave that piece of info out of the slides.
An overclocked Apple A5X chipset is also an option, but I doubt overclocking would give them a 2x upgrade in performance over the regular A5.
And finally, the Cortex-A15 architecture. It would be the best thing to happen to the new iPhone. It will bring major performance upgrade and will make the iPhone 5 the first smartphone to use the new cores. But then again, if this was the case Apple wouldn't have missed the opportunity to brag about this new processor that blows past the Galaxies and One X's.
However I put this, a dual-core Krait processor is most probably ticking inside the iPhone 5. If so, then an Adreno 305 GPU and 1GB RAM are most probably the rest of the mysterious specs. Here's hoping I'm wrong or that would be everything else but real innovation.