Sometimes it's the tiniest of things that make my day! So you better put some glasses on or you might miss the Motz FM radio pictured below. It weighs only 17grams and fits in a small child's palm but it actually is a usable portable FM radio. And on top of that it even doubles as a portable MP3 player speaker.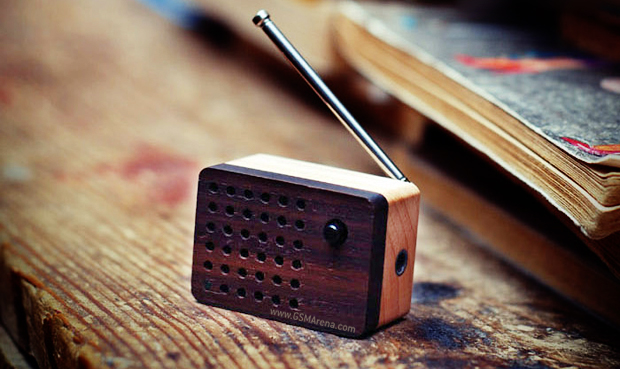 The wooden body of the Motz MusicBox (that's its real name) measures only 37 x 19 x 26 mm. It must have been a great challenge for its manufacturers to fit a 1.5W speaker, a rechargeable Li-Po battery and a radio receiver in it but they did hell of a job with that.
I mean it – the result is really stunning. The thing not only work, it wows! Check out that short video, showing the Motz FM radio in action.
On the back of the tiny boombox there is a telescopic antenna and an on/off switch while on the front there is only the speaker grill accompanied by an LED and a joystick used for switching the radio station.
There is also some jack aboard (I can't tell you if it is a 3.5mm or a smaller one). You can use it to connect the tiny gadget to a PC or a standard USB charger using the enclosed adapter.
The other adapter from the retail box transforms the Motz FM radio into an external speaker for MP3 players (or other compatible devices such as mobile phones, PMP's, etc.). How about that?
Unfortunately, the Motz MusicBox FM radio is only available in Korea where you can get it for 35 US dollars.