Alive, dead, alive, dead… Isn't the Microsoft KINs agony lasting too long? Well, it's soon coming to an end: the Mircosoft KIN devices are going to die yet again. In a couple of months.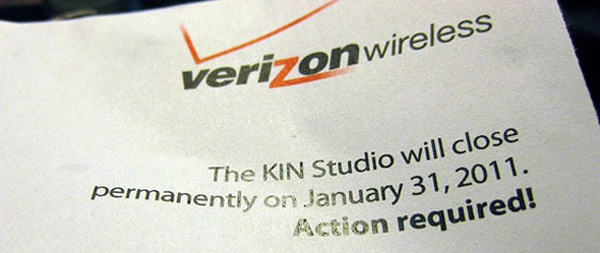 The Micorsoft KIN One and Two showed up, were disliked (to be honest, I really like the KIN One design), discontinued and then brought back to life once again. Tired of this soap opera?
Apparently, US carrier Verizon is tired of it too, so it's closing down the KIN Studio onlince service, which means that as of 31 January the few KIN owners out there (if there are any left) will only be able use the device for making calls, checking their email, and listening to music.
All the SNS stuff will be gone, such as:
• Feed Reader will stop working
• Search Near me will stop working
• Posting Photos to social sites will no longer be possible
• Most pictures currently on Kin will only appear at thumbnail resolution
• Posting to Social Networks will no longer work
• No comments from the loop
• Social network contacts will disappear
• Loop will stop to work
• Kin Spot will only send to emails
• Social networks only accessed from web browser.
So, killing the KIN Studio basically means killing the very essene of the KIN phones. current KIN owners may ditch their useless dummies for free and get a working 3G phone of their choice from Verizon. This offer expires on 31 March 2011 so you better hurry up. Your true phones are waiting.