Google's Nexus 7 is a milestone in Android's development, so we were all over it when it came to our office. The Nexus lineup lays down the development direction for Android gadgets in general and Jelly Bean that debuted on this tab is quite interesting indeed. Unlike some previous Nexus gadgets, the Nexus 7 will probably gain a lot of traction with consumers making it even more important.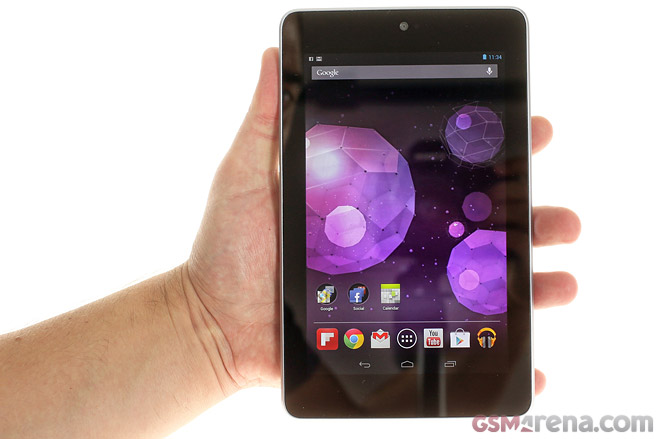 The Nexus 7 packs a Tegra 3 chipset, a 7″ LCD screen with WXGA resolution and a highly competitive price. We can't understate the importance of the price – it matches the Amazon Kindle Fire, which fairly quickly grabbed 5% of the tablet market share on its own and it doesn't even run a proper version of Android.
The Nexus 7, however, comes from Google itself along with the latest OS (and a promise for timely updates in the future). We've already looked at what Android 4.1 Jelly Bean is all about, so let's take a closer look at the hardware instead.
The Nexus 7 was made by ASUS and they have done a pretty good job of it. We like the metallic edge running around the tablet and especially the back. The back is made out of plastic with a dotted pattern, really pleasant to touch and good at hiding fingerprints.
At 340g, the tablet is lighter than most other tablets in the class. Its size (198.5 x 120 x 10.5 mm) is about average, though, with Samsung tabs being thinner, while the Kindle Fire is a bit thicker.
The contrast of the screen isn't stellar, but the 216ppi pixel density ensures sharp images. Colors are decent, but we would have preferred them to be slightly more saturated. Indoor viewing angles are good, but, as is often the case with tablets, the display turns into a mirror when taken outside and the sun shines directly on it.
We'll do our usual battery of tests for the review, but for now check out this video for a quick guided tour of the Nexus 7.
There are things that Google and ASUS skipped when creating the Nexus 7 (a process that reportedly took only 4 months), like a main camera or a microSD slot. We'll need some more time with the Nexus 7 to figure out if those things will be missed.