While Android was the undisputed ruler in the smartphone world, it's a different story when it comes to tablets – Apple's iPad had a record quarter and accounted for 68.2% of tablet shipments during Q2 of this year.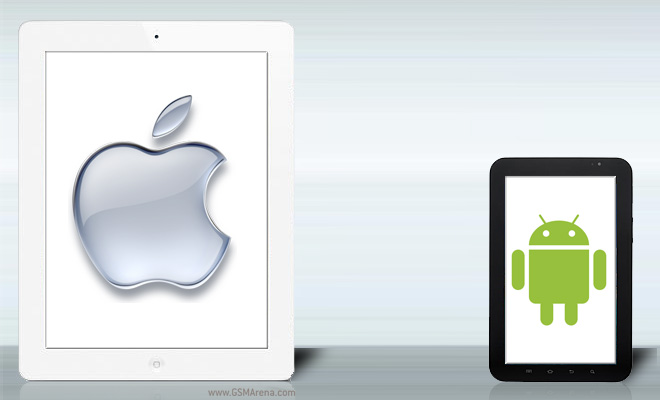 For comparison, the biggest maker of Android tablets is Samsung and their share is just 9.6%.
Going back to Apple for a moment, they beat their record Q4 2011 quarter despite shipments in mature markets losing some of their momentum, according to IDC. The other markets picked up the slack.
Samsung's shipments grew by 117.6% and solidified its second place, even though they've got a long, long way to go before catching up with Apple. Amazon and their single Kindle Fire tablet are doing pretty good for themselves too, snatching a 5% share of the market – this is especially impressive because the Kindle Fire was only introduced in Q4 of last year.
Top 5 Vendors, Worldwide Media Tablet Shipments, Second Quarter 2012
(Preliminary) (Unit Shipments are in thousands)
Vendor

2Q12
Shipments

Market
Share

2Q11
Shipments

Market
Share

2Q12/2Q11
Growth

1. Apple
17,042
68.2%
9,248
61.5%
84.3%
2. Samsung
2,391
9.6%
1,099
7.3%
117.6%
3. Amazon.com
1,252
5.0%
0
NA
NA
4. ASUS
855
3.4%
397
2.6%
115.5%
5. Acer
385
1.5%
629
4.2%
-38.7%
Others
3,067
12.3%
3,668
24.4%
-16.4%
All Vendors
24,994
100%
15,042
100%
66.2%
ASUS more than doubled their shipments and even though they're in fourth place with a 3.4% market share, they can expect better results in the third quarter as IDC's numbers don't reflect sales of the Google Nexus 7 tablet made by ASUS.
Acer completes the Top 5 tablet maker list – they used to be ahead of ASUS, but have dropped by almost 40% year on year, and will probably join that dreaded Others group unless they do something drastic in the coming year.
The tablet market as a whole saw healthy growth – about 25 million tablets were shipped worldwide in Q2 this year, up 66.2% year on year and 33.6% quarter on quarter.