The Google Nexus 10 has finally graced our office with its presence. Not only is this Google's first swing at a 10-inch slate, but it's also the tablet with the highest resolution screen on the market. It's got a 2560×1600-pixel LCD with a pixel density of 300 ppi, which can put even the Retina iPad to shame.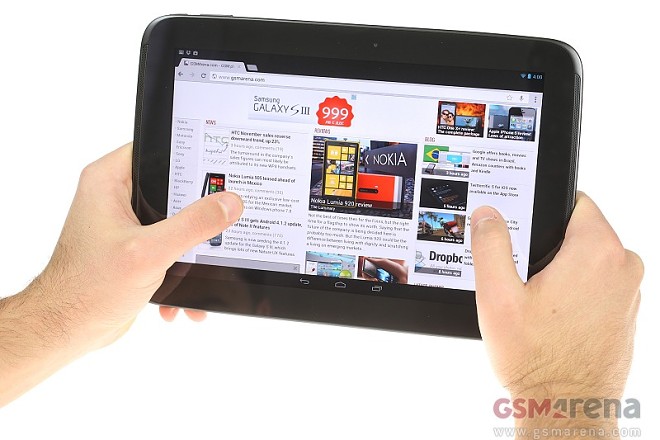 The Google Nexus 10 is also the first tablet to be powered by Samsung's new Exynos 5250 chipset, featuring a couple of Cortex-A15 cores. And all Google is asking for this impressive package is $400.
The Google Nexus 10 is made by Samsung and while it borrows some design cues from the Samsung Galaxy Note 10.1 and the Galaxy Tab 2 10.1, it features a body made of plastic, which is far better looking and nicer to touch.
The tablet is pretty light for its class, weighing 603 grams. That's almost 60 grams lighter than the tablet king – the Apple iPad 4. Having said that, the widescreen tablet is pretty long, which makes it a bit awkward to hold in portrait mode as its too long and you have to fight a bit to balance it.
Unsurprisingly, the dual-core ARM Cortex-A15 processor, the Mali-T604 GPU and the 2 gigs of RAM provide a smooth run around the Jelly Bean 4.2.1 OS.
According to Google the Nexus 10 is capable of delivering 9 hours of continuous video playback on a single charge of its 9000mAh battery, which isn't too shabby. And mentioning video playback, we have to say that the stereo speakers placed either side of the screen and the wide aspect ration of the LCD really contribute to the video watching experience.
Without further ado, here's our hands-on of the Nexus 10, showcasing its key features.
Expect the full review of the Nexus 10 after we do our full array of tests in the coming days.