You may have heard me calling the iPad a "giant iPod touch" and while I still think it is exactly that, the way I perceive what it's worth has started changing. And here is the next reason for that: the iPad-loving electronic version of the popular Time magazine. Who thought that e-books will get that far?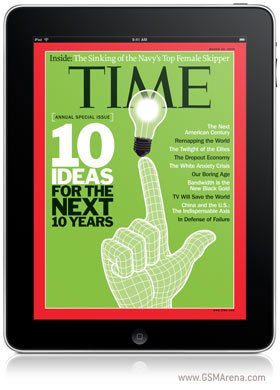 The most amazing thing about the Time magazine iPad app is not the concept behind it but the fact that it has been brought to real life. It looks almost unreal.
TV and Internet look so yesterday when put next to that e-magazine. The latest news and the engaging stories have been mixed with loads of images and even videos shot at the place you're currently reading about. Sharing to social networks is impressively simple and so is engaging in debates with other readers. You doefinitely need to check out this video, it looks like a concept that would hardly ever see daylight – yet, it's already available to the iPad.
The Time magazine for iPad will appear once a week and here comes its major downside (if not the only one): the price. 5 US dollars a week makes 260 US dollars a year and that's a lot of money for a magazine (even if it is as great as seen on the video demo). Hopefully, the upcoming subscription options will make the Time magazine iPad app more affordable.