Alured by Google's success with the Chromecast, Alcatel has decided to make its own plug-n-stream device for TV sets. It's called the Alcatel Home V102, which isn't really as snappy a name as the Chromecast.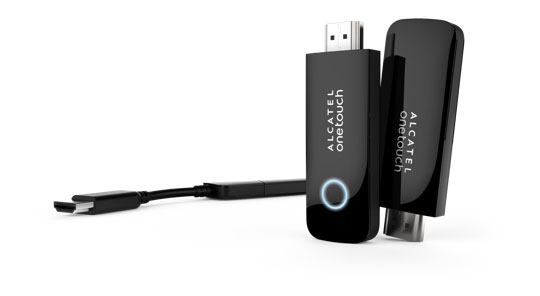 Nevertheless, it can play 1080p videos at 30fps and supports 5.1 channel surround sound audio. Similarly to the Chromecast, the Home V102 connects to the TV via HDMI and gets its power from a power outlet. In order to stream anything from your phone or tablet, you'll need to be running at least Android 4.2 Jelly Bean and the device has to support the Miracast streaming protocol.
After you plug in the Home V102, it'll guide you through a simple set up process where you give it access to your home Wi-Fi and you're good to go. Alcatel is yet to announce further details how the actual streaming will be done and if there will be a dedicated Android app.
The Alcatel Home 102 will roll out some time in Q2 2014 in Europe, the Middle East and Africa. It costs €49, which is similar to the European pricing of the Google Chromecast. Availability information for other regions isn't out yet.