If you've always been waiting for a company to start offering custom Android smartphones, you're in for some good news. Synapse, a German company that we've hardly heard of before, is about to start dispatching the first custom-made Android smartphones in a few months (if they can get their website running, that is).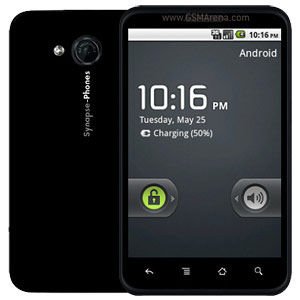 Synapse offers you to completely customize the hardware of the phone point by point.
Update 22 Oct: It sure did look too good to be true. As our readers point out – it's most probably is a scam site. Yet for a moment it felt nice. We hope some day we'd be able to customize phones that way – much like we do with computers.
Prices seem reasonable, too. They start from 299 euro (with free delivery). Sadly, the company's website is currently down (due to high traffic) but thanks to Google's cache you can still take a look at the diverse feature options.
For instance, you can go for a 5, 8 or even 12MP camera. The 8MP snapper will cost you 20 euro more than the 5MP, while the 12MP sharpshooter calls for 35 euro extra.
If you want, you can order your phone with 1GB RAM, 32GB of storage, support for WirelessN and Bluetooth 3.0, a promising 1500 mAh battery, a 3.5mm audio jack, a 2MP front-facing cam, a Xenon flash, etc. but all those come at a price.
All Synapse phones will run Android 2.2 a.k.a. Froyo and will be equipped with a 4-inch capacitive Super AMOLED touchscreen of WVGA resolution (with multi-touch support, of course). Also on board there is a fast 1GHz processor (non-customizable).
Another noteworthy detail is the fact that the Synapse smartphones are also expected to be pre-rooted and with an unlocked bootloader.
Keep in mind that you have to pay for the thing in advance. The upcoming Synapse smartphones are said to come with a 3-year worldwide warranty and to start shipping in the middle of Q1 2011.
Of course, we don't advise you giving upfront cash to an unknown company for some product that (1) sounds too good to be true and also (2) may never see daylight. So take all of this with a pinch (or better yet, a handful) of salt.