The Sony Xperia Tablet Z was definitely one of the hottest tablets to set foot at the Mobile World Congress floor this year, and we were pretty excited when we learned that we'd be able to get our hands on one in mid-April. Sadly, Sony has pushed back the slate's European release to the end of May.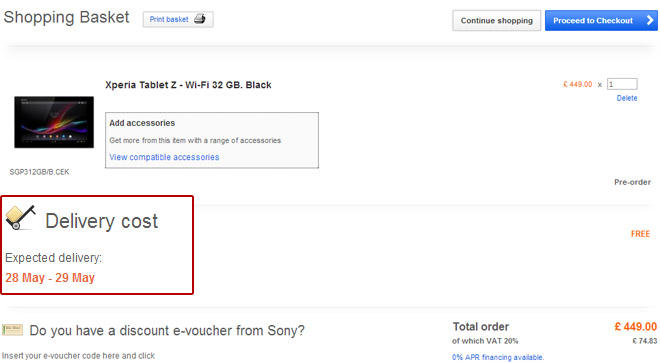 On the checkout screen on the company's webstore, the Xperia Tablet Z is listed to ship on May 28-29. In the UK, online retailers like Expansys and Clove say the device is expected to show up in the week of May 20.
Sony hasn't officially given out any information regarding the delay of the Tablet Z, but if I had to put my finger on it, I'd guess that there are some issues with the manufacturing process or part shortages behind it all.
Anyhow, the European pricing of the Tablet Z starts from €499 for the 16GB Wi-Fi only version, and €629 for the LTE/4G one. The 32GB model is priced at €549.