Sony's latest budget offering, the Xperia E1 has come to our office for a full review treatment. Before that though, we're giving you a glimpse of what's the phone like through one of our usual hands-on videos.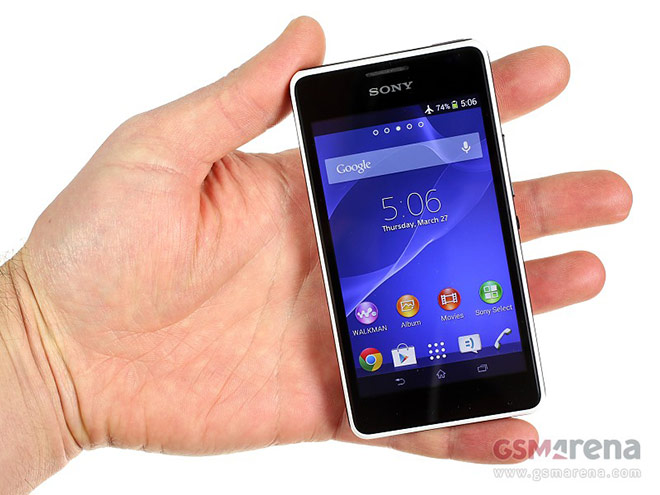 The Xperia E1 sports similar design traits as the Xperia Z1 Compact, but it's not quite in the same beauty category. That's not to say the Xperia E1 isn't good looking on its own, but it's made entirely out of hardened plastic, which isn't as pleasing to look at. However, it's quite rugged and doesn't collect fingerprints like crazy.
The phone is built around a 4″ LCD display with a resolution of 480 x 800 pixels. This makes for a pixel density of 233 ppi, which is decent for a phone with such a price tag. The Xperia E1 employs a Snapdragon 200 chipset with a 1.2GHz dual-core Cortex-A7 CPU and 512MB of RAM.
While that may not sound like a benchmark king material, the Xperia E1 runs Android 4.3 Jelly Bean rather smoothly. The only gripe we have is with the somewhat slow app loading times, but it's nothing too bad, really.
The 1,700mAh battery looks good on paper, considering its direct rivals (the Nokia X and HTC Desire 300) sport smaller power packs. At the back, there's also a 3MP snapper, which sadly is limited to just SVGA video recording.
Still, Sony has given the Xperia E1 some unique features, such as the dedicated Walkman button on the top right. The company's trademark breathing Ambient light LED is also present below the display. It lights up once you open either the Album or Walkman apps and displays the color that's currently prevailing on the screen.
Check out our full hands-on video of the Sony Xperia E1 below to see it in action.
We're currently dedicated on finishing off the Xperia E1′s review, which you can expect on our homepage sometime next week.