Sony announced a new 13″ VAIO Z laptop, which makes even the S Series model look chubby. Long story short, the new Z Series puts an Intel Core i7 processor in a body that weighs less than 1.2kg and is thinner than 17mm.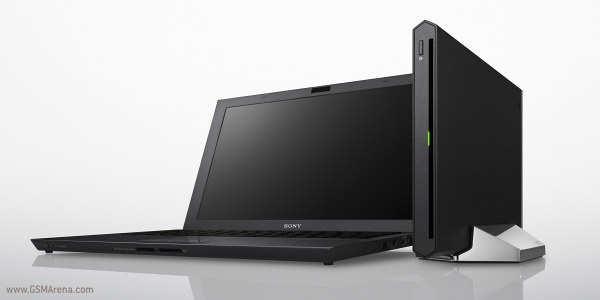 There's also a clever dock that houses a discreet video card and a Blu-ray drive (which is great as neither of those two have a place on a portable device if you ask me). And typically for the Z Series, the laptop weighs less than its price in gold.
Here's what you get if you shell out for a new Sony VAIO Z – a Core i5 CPU if you're stingy or an i7 (of the dual-core kind) running at 2.7GHz, 4GB-8GB RAM, up to 512GB SSD in RAID 0 configuration, all of which is packed into 330 x 210 x 16.7 mm and 1.18kg of weight. The 13.1″ screen comes in either 1600 x 900 or 1920 x 1080 (for those with excellent eyesight). There's USB 3.0 and HDMI ports too along with an RJ-45 jack (that's Ethernet).
The Power Media Dock (which is optional) packs external graphics AMD Radeon HD 6650M with 1GB of video RAM and a Blu-ray writer (Blu-ray reader and DVD writer options are available too).
The Sony VAIO Z can go up 7 hours autonomously or up to 16.5 hours with the sheet battery.
For comparison, the VAIO S packs the same CPUs, with up to 2x 512GB SSD in RAID 0, Radeon 6630M with 1GB VRAM (built in, not in dock or anything), it weighs 1.72kg and is 25mm thick. It has a sheet battery option and built-in optical drive too. It starts at £1050 ($1,680) for the i7 model (it comes with a 500GB HDD though).
The Sony VAIO Z will be shipping in Europe at the end of July (actual dates depend on the country) and starts at &pound1,434 ($2,295) for the i5 version and 128GB SSD storage. The Power Media Dock starts at £400 ($640), £525 ($840) for the Blu-ray writer model.
The UK configurator for the VAIO Z is up and running if you care for some window shopping.