It's been a while since we last heard of Sony's upcoming mirror-less interchangeable lens cameras but now the speculations about their premiere date can stop: the Sony NEX-3 and NEX-5 have just been officially announced!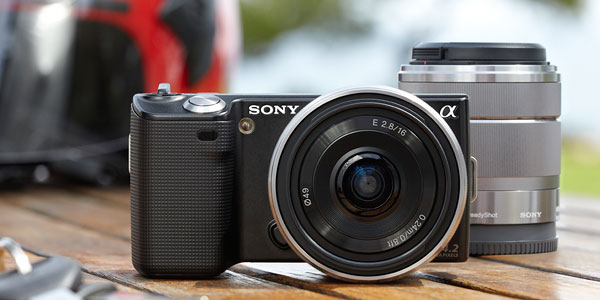 While the NEX-3 is made of polycarbonate and shoots 720p HD videos, its bro, the NEX-5 comes with a noticeably smaller magnesium alloy body and is capable of taking 1080i AVCHD video clips. Basically, those are the differences between those two. Oh, and the 100 euro extra you'll have to pay for the NEX-5.
Both cameras promise to take 14.2-megapixel images of DSLR-like quality which is a result of the Exmor APS HD CMOS image sensor measuring 23.4 x 15.6 mm. Surprisingly, none of the two new cameras packs in-body image stabilization so you'll have to rely on optical stabilization where that is available.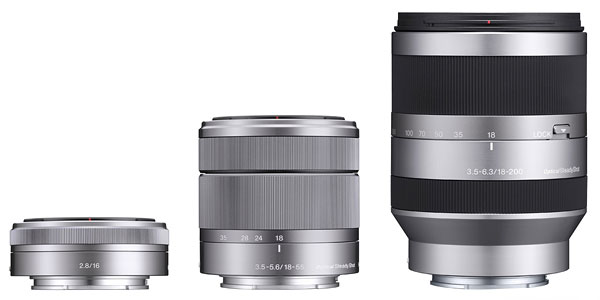 Speaking of lenses, the two NEXs are the first cameras to have the new E-mount. Along with the NEX-3 and NEX-5, Sony have unveiled three E-mount lenses (a 16mm F2.8 and two stabilized kit zooms – 18-55mm F3.5-5.6 and 18-200mm F3.5-6.3). If you want to use the other Sony lenses with a NEX cam you'll have to buy the upcoming mount adaptor which however will cost you the autofocus (and probably a fortune).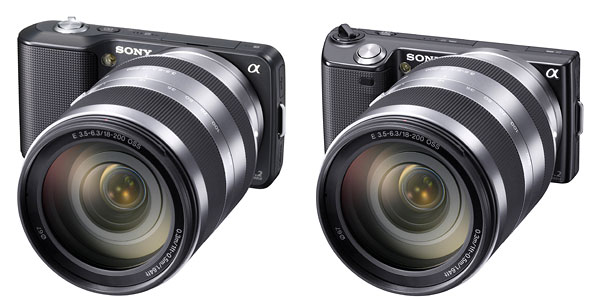 Sony NEX-3 and NEX-5
Some rumors have suggested that Sony's first mirrorless interchangeable lens cameras will also sport touchscreens but, apparently, that isn't true. Both NEXs come with a 3-inch 921K-dot tilt display on board. There is no built-in flash or electronic viewfinder either. However, an external flash is supplied in the retail box. The optional optical viewfinder comes at an extra cost though.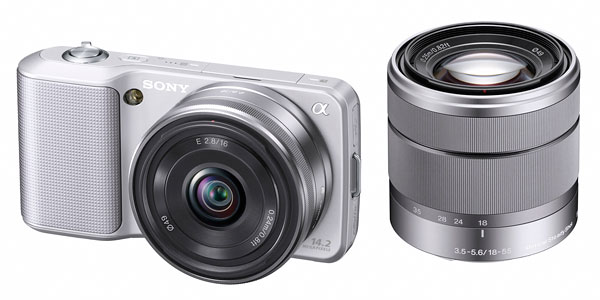 Sony NEX-3
NEX-3 and NEX-5 will also pack the Sweep Panorama feature which allows you taking panorama images by just swinging the camera side-to-side or up and down. I can't wait to give that a try: it sure sounds exciting.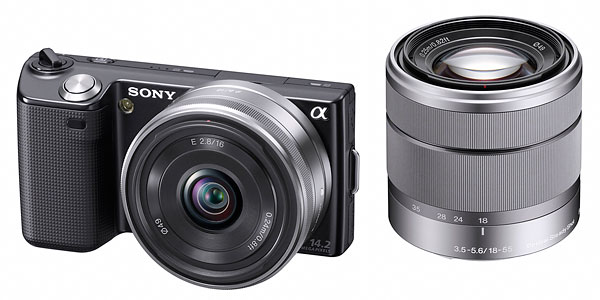 Sony NEX-5
As for availability, the Sony NEX-3 and NEX-5 will start shipping sometime this summer. The NEX-3 is expected to be selling for good 500 euro (with the 16mm F2.8 lens) or 550 euro (with the 18-55mm zoom lens) while the NEX-5 should cost a 100 euro more (600 and 650 euro, respectively). Isn't that too steep for a DSLR-wannabe with a really poor lens choice? I think I'll pass.
For further reading on those two, check out this NEX-5 review, which will also give you some nice size comparison shots with popular micro-four-thirds and DSLR cameras and of course, some photo samples.