IFA used to be dominated by smartphone announcements, then tablets moved in and now wearables are the new hotness. Many companies have various smartbands but we're only interested in proper smartwatches – ones with big screens for notifications and with a proper OS to run apps.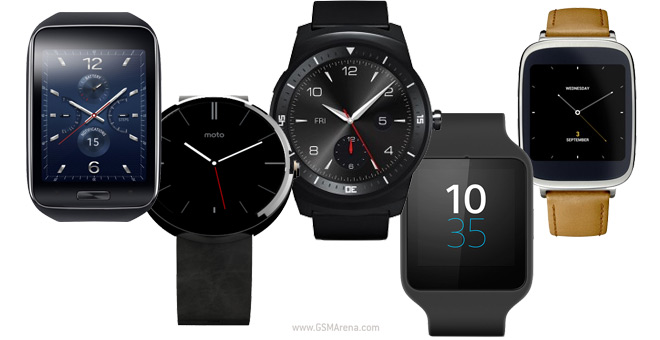 This cuts the number of contestants down somewhat but not enough, it can still take you a while to wade through specs and price not to mention looks. There's a battle shaping up versus practical square watches and aesthetically pleasing round watches. Here are all the specs in one place to make things a little easier.
Samsung
Gear S
Motorola
Moto 360
LG
G Watch R
Sony
SmartWatch 3
Asus
ZenWatch
Screen size
2″
1.56″
1.3″
1.6″
1.63″
Screen res
360 x 480
320 x 290
320 x 320
320 x 320
320 x 320
PPI
300ppi
205ppi
245ppi
282ppi
278ppi
Screen type
Super AMOLED
LCD
P-OLED
Transflective TFT
AMOLED
OS
Tizen
Android Wear
Android Wear
Android Wear
Android Wear
CPU
Dual-core 1GHz
? (OMAP3)
Quad-core 1.2Ghz
Quad-core 1.2GHz
Quad-core 1.2GHz
RAM
512MB
512MB
512MB
512MB
512MB
Storage
4GB
4GB
4GB
4GB
4GB
3G
Yes
No
No
No
No
Battery
300mAh
320mAh
410mAh
420mAh
369mAh
IP
IP67
IP67
IP67
IP68
IP55
Other
GPS with SatNav,
IR, heart rate
heart rate
heart rate
GPS
-
Price
?
€249
?
€229
€199
The table mostly speaks for itself but it does need some clarifications. For one, Android Wear recently added support for GPS but it's not clear if all devices have a built-in receiver. Sony has confirmed the SmartWatch 3 does have GPS and the Samsung Gear S has GPS and standalone navigation courtesy of Nokia HERE Maps.
The Gear S is the only Tizen-running watch in this comparison but it's also the most independent – with a SIM card slot and 3G connectivity it can be used without being connected to a phone. The Gear S also has an IR blaster, which the others lack.
The same Android Wear update allowed some freedom for the watches – they can talk to accessories, like Bluetooth headphones. This means you can go on a run and listen to music from the watch, which is where the built-in storage comes in.
Here's a quick refresher on IP ratings as that's much more important for a watch than a phone. The first digit signifies dust tightness – 5 means dust can only cause cosmetic damage, 6 means the device is completely dust tight. The second digit is water resistance – 5 means water jet resistance, 7 means submersion up to 1m of water for half an hour and 8 goes beyond that (generally up to 3m but may vary).
So, which one is your favorite smartwatch of this IFA?