Samsung and Nokia have announced that HERE Maps are arriving in beta form on Android, free for Galaxy phones. HERE comes with voice-guided navigation capabilities and will work offline too, something which Google Maps doesn't allow.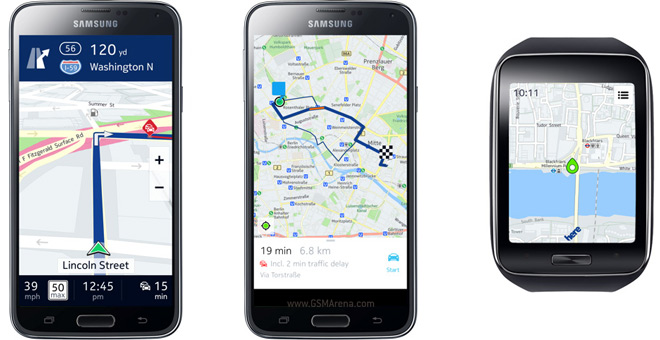 The Tizen-running Samsung Gear smartwatches are getting HERE maps too. The initial announcement was a little vague but now we have the full details.
You can download offline maps for nearly 200 countries, about half of which support turn-by-turn walk or drive instructions. In around 40 countries you also get live traffic information (which does require an Internet connection). HERE also supports public transport navigation.
The Here.com site lets you pick out destinations, which will be synced with your device. You can also share destinations with your friends and family to improve the planning process.
The Samsung Gear S gets the Navigator app, which can work autonomously and provide offline walk and drive navigation without a connection to a phone. You can still sync it with the phone app, so you can plan routes on the big screen. The Gear S will also support the new Glympse app that shares your location with friends for a limited time.
The other Tizen smartwatches will be using HERE for Gear for navigation instead. The app is for walking and public transport navigation while offline and without a connection to a phone. What it can't do is drive navigation.

The three apps we be available at the Galaxy Apps store when the Samsung Gear S arrives in stores.