Black Friday is fast approaching and OnePlus has decided to make it a collaborative event – the company will be trading Facebook shares for money. Or rather for discounts on its accessories – 5% off goes for 2,000 shares, but the maximum 20% off is a steep 20,000 shares.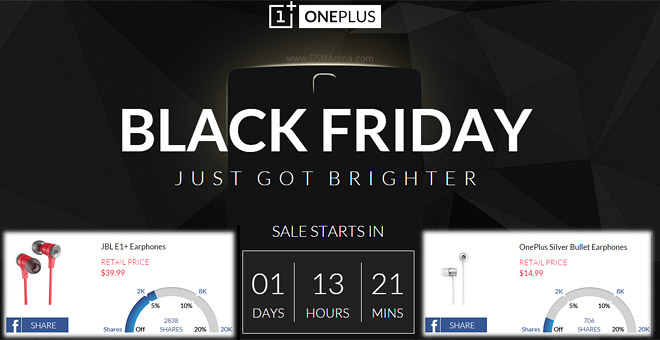 This is an interesting type of promotion – the more people that hit the share button, the more people will see the promo, which should lead to an avalanche effect.
Still, you don't need to be a mathematician to see than the discounts don't scale linearly (4 times the discount takes 10 times the shares).
Anyway, the JBL E1+ earphones have already made it past the 5% mark with about a day and a half to go. OnePlus' own Silver Bullets have gotten only a quarter of the shares the JBL earphones got. Also on the list are three screen protectors, two back covers and a OnePlus One data cable.
OnePlus is saying that it has "some very special things planned for the big day itself," hopefully those include the OnePlus One smartphone itself. Its silhouette is used as the header image of the Black Friday page