The latest company to hop onto the smartwatch bandwagon is Scania – yes, the truck making company from Sweden. It has unveiled the Scania Watch, its very first offering in this space, which is targeted at truck drivers, as you might expect.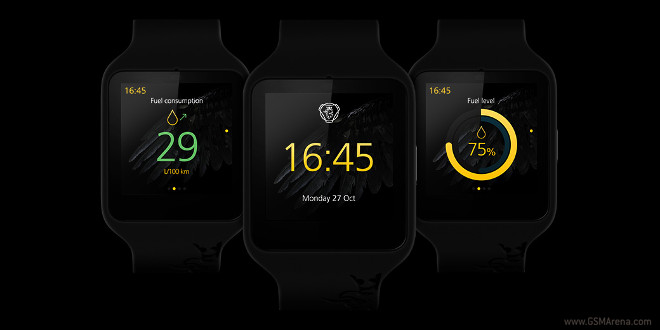 The device is in fact a rebranded Sony SmartWatch 3, but it does feature some interesting software additions (as well as promises for much more to come in the future). This might make it more appealing to truck drivers than any other smartwatch out there.
The Scania Watch can do everything an ordinary Sony SmartWatch 3 can. So it runs Android Wear, and has all the features of that device, including the 1.6-inch 320×320 transflective touchscreen, 1.2 GHz quad-core processor, 512MB of RAM, 4GB of internal storage, 420 mAh battery, and IP68 certification.
But it's also got "Scania FMS integration", which is unique and connects you to your truck. The watch shows you an instant overview of your current fuel and AdBlue levels, and even current average fuel consumption, shown in contrast with your average from the last week. And there's some trend analysis baked in too.
The wearable also gives you a Driving support score, which analyses your driving behavior over time and gives you concise scores trying to help you become more efficient, so you can lower fuel consumption as well as the wear on your truck. Transport metrics are included too, so you can see information about average distance traveled, speed, and data about your current and weekly transports. Finally, Scania has bundled three watch faces of its own, two digital ones and one analog.
The Scania Watch is already available to order from the company's own online store. The price is €295.