It was a repeated theme in Galaxy S6 rumors that the upcoming high-end smartphone will be equipped with wireless charging capability, and Samsung all but confirmed it. Now we may have stumbled on another tangible proof of that feature. American regulating authority FCC has certified a Samsung wireless charger and all clues point to a unit, that will accompany the hotly-anticipated flagship.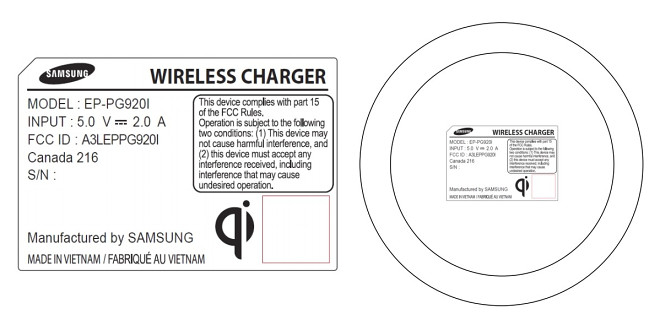 The charger's model designation is EP-PG920I, containing the magical 920 number that the Galaxy S6 is set to bear. The round bottom of the charger is also oddly similar to the one that showed up in a video render (at 0:48min) of the smartphone.
Unsurprisingly, documentation is pretty extensive, but there's little info, comprehensible by the average user. The basics are clear though, and input voltage will be the standard 5V at 2 Amps. Delving a little deeper, it is revealed that the charging current will top at 645mAh and have two other steps, depending on battery charge percentage.