How would you fancy a tablet rocking a 10.1-inch, 300dpi display with a staggering resolution of 2560×1600 pixels to be in your hands for your friends to envy? Yeah, I am as eager to see it as you are and fortunately, it could turn out to be just around the corner.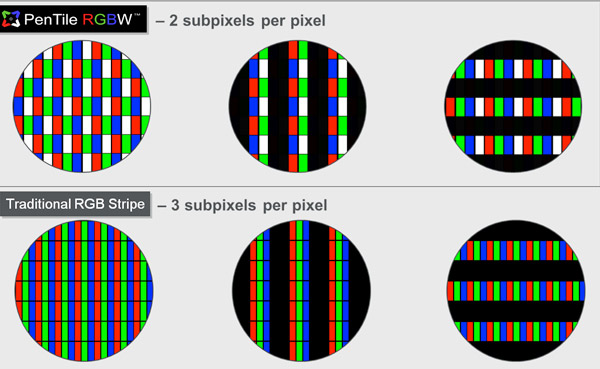 On 17-19 May in Los Angeles Convention Center, Samsung and Nouvoyance will show a demo of the world's first 10.1-inch WQXGA (2560 x 1600) PenTile RGBW LCD tablet display.
According to Dr. Sungtae Shin, Senior Vice President at Samsung Electronics, the display provides twice the performance of today's display for FULL-HD viewing, yet needs 40 percent less power to run, compared to the legacy RGB stripe LCDs in power-saving mode.
When viewing the screen outside, it'll be outputting as much as 600 cd/m2 luminance. The result – a bright and pleasant viewing experience even in a sunny day. In contrast with current LCD displays, the PenTile technology achieves 300 dpi of resolution needing only 2/3 the amount of subpixels. The PenTile matix used in the AMOLED screen of the original Samsung Galaxy S was frequently criticized for not delivering as sharp an image as competing technologies namely due to this lower number of sub-pixels. But 300dpi on a 10-inch screen – nobody can possibly compare of lack of sharpness.
The 10.1-inch tablet panel will be showcased at next week's SID Display Week 2011 International Symposium with Samsung expecting to have the technology to kick into production later this year, which sounds terrific.
Speaking of innovation, Samsung has come up with a foldable AMOLED display as well. The idea behind it is to allow folding a tablet to fit in your pocket, rather than requiring something more substantial to carry it, say a backpack.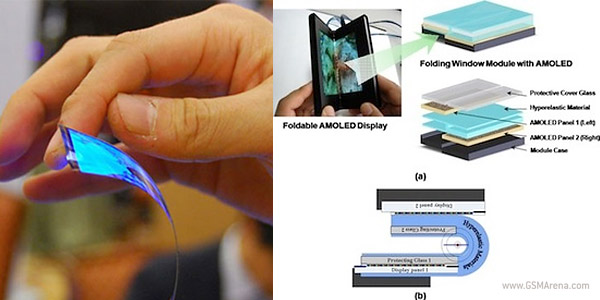 In order to achieve the folding part of the equation without the ugly fringe in the middle of the screen ruining the experience, Samsung has put to the use some clever materials. A combination of silicone rubber, two protective glass panels and a pair of AMOLED displays are the key "ingredients" to the folding magic.
According to reports, the display has survived more than 100,000 foldings with minimal effect on the quality of the AMOLED display. We'll see whether Samsung is going to apply it to any actual products or if it's just a nice lab exercise.