Samsung announced its new lineup of Smart Cameras 2.0 at CES 2013. Featuring no less than six new models, the new Smart Camera lineup allows users to share their images directly from the camera or to control the camera with their Android smartphone or tablet.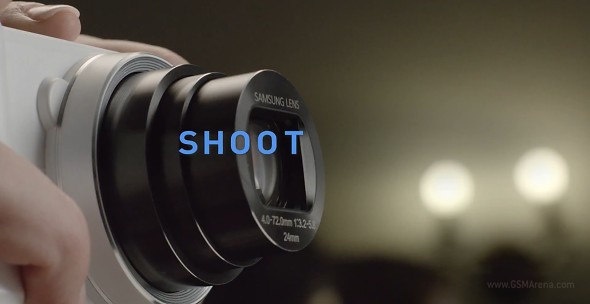 The new camera models include the WB250F/WB200F, the WB800F, WB30F, DV150F and ST150F. The Samsung WB250F and WB200F are identical but the latter uses a CCD sensor instead of a backlit CMOS one and it doesn't shoot 1080p video unlike its CMOS sibling.
Other than that, all of the new cameras features things like Wi-Fi connectivity, Auto Share, Direct Link, Remote Viewfinder and Social Sharing. It's got to be noted that unlike the Samsung Galaxy Camera the Smart Camera lineup is not about cameras with Android, instead these are regular cameras with internet connection and a colorful touch interface.
Samsung WB250F
The Samsung WB250F camera has 18x optical zoom, a 14.2 Megapixel BSI CMOS sensor and an extra wide 24mm angle of view in the wide end of the zoom. The 3-inch screen is touch sensitive and there is a full manual mode for experienced photographers plus a built-in HDR mode and the option to choose a best facial expression for your friends in group portraits. Wi-Fi connectivity of course, is a given.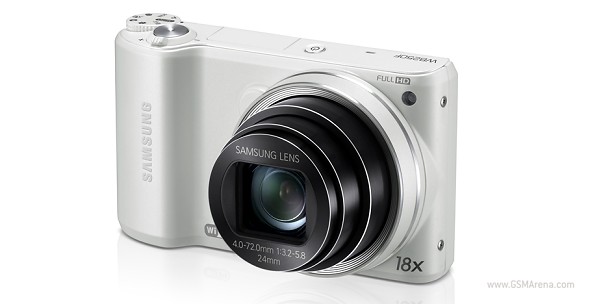 You can watch it star in a new video ad:
Samsung WB800F
The Samsung WB800F has a 21x zoom F2.8 lens starting from the impressively wide 23mm. There's a 16.3 Megapixel BSI CMOS sensor and a 3-inch touchscreen on the back. It shoots 1080p@30fps video.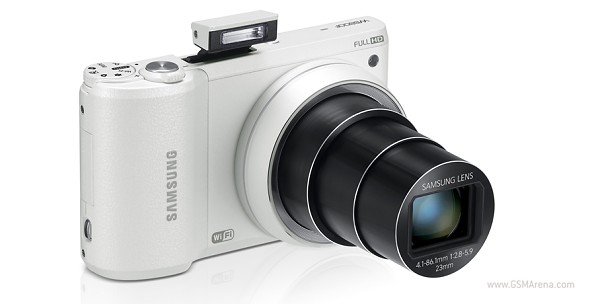 There is also a built-in HDR mode and a Best Face mode for group portraits.
Samsung WB30F
The Samsung WB30F is the mini cam in the new lineup. It features a 10x optical zoom, starting from 24mm. It's also got a 3-inch screen and can shoot 720p@30fps video. The screen on its back is not touch-sensitive.
Currently, there are no published product photos of the Samsung WB30F.
Samsung DV150F
The Samsung DV150F has a 1.48" front-facing LCD screen for easy taking of self-portraits. The DV150F has a 16.2MP CCD sensor, a bright F2.5 5x optical zoom lens, starting from 25mm in the wide angle.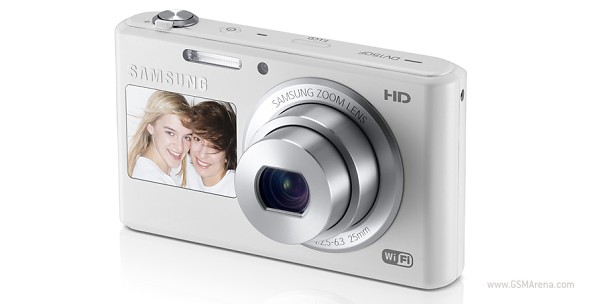 The screen on the back is only 2.7 inches and it's not touch sensitive.
Samsung ST150F
The Samsung ST150F has pretty much the same specs as the previous model, sans the front-facing LCD. Otherwise, it's got the same 16.2MP CCD sensor and bright F2.5 5x optical zoom lens, starting from 25mm in the wide angle.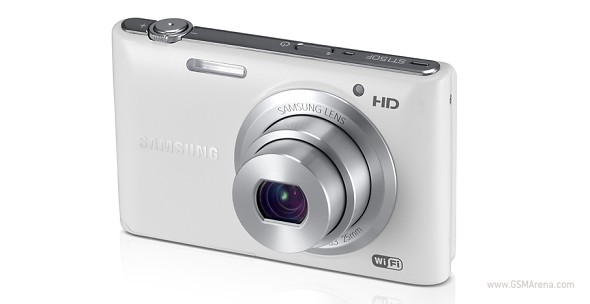 The screen on the back, however, is 3-inch (though not touch sensitive) and has a QVGA resolution. The ST150F can shoot 720p videos@30fps.
So what are your thoughts? Is Wi-Fi connectivity and instant social sharing the future of digital cameras?