In the heat of the Mobile World Congress in Barcelona, Samsung has announced the Samsung Galaxy S WiFi 4.2. As the name suggests, this is the replacement for the original Galaxy S WiFi, rocking a 4.2-inch display.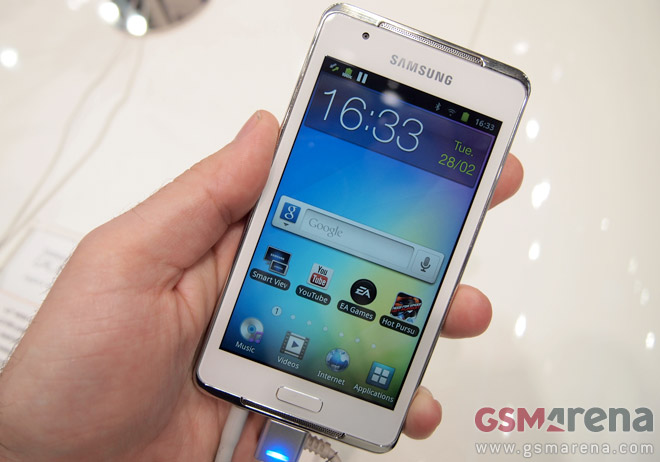 Samsung are aiming high with this one, trying to bring a serious alternative to Apple's iPod Touch. And here's what they're throwing against it.
Obviously, the first notable feature of the Galaxy S WiFi 4.2 is its 4.2-inch 480×800 pixels IPS TFT display. This time, Samsung have chosen an IPS screen instead of an Super AMOLED one to keep the price down, but the WiFi 4.2′s display seemed adequate on the showroom floor, so it's not that big of a loss.
Under the hood, there's 1GHz single-core processor and 512MB of RAM running Android 2.3 Gingerbread with, you guessed it, TouchWiz UI. This means this big Android fella gets extras like the Android Market and Widgets.
And you are probably thinking that because of the large screen, the Galaxy S WiFi 4.2 is not going to be as comfortable as an iPod touch, and, well, you are right. It's bigger than the iPod touch, but it's not as bad as you'd think. It measures at 124.1 x66.1 x 8.9 mm and weighs 118 grams.
It's also got Bluetooth 3, Wi-Fi N, Samsung's ChatON service pre-installed as well as Samsung's Kies Air, AllShare and not to be underestimated, Samsung Apps. Oh, Samsung have also thrown in EA's premium game Need For Speed Hot Pursuit.
There's no telephony support on the Galaxy S WiFi 4.2, but to help you make the best out of the multimedia player, there are 8/16GB storage options plus you can always pop in a microSD card as well.
The capacity of the battery is 1500 mAh, which should keep the music playing for quite a while. You will definitely also have some fun in games thanks to the gyro and accelerometer. GPS is on board, too.
Pricing and availability, sadly, are still anyone's guess, but we'll update you as soon as they become available.