Samsung has created the first memory chip based on the new eMMC 5.1 standard and is getting ready to ship it to smartphone and tablet manufacturers. The new chips come in 16GB, 32GB and 64GB capacities and offer better speed and other enhancements over the older standard.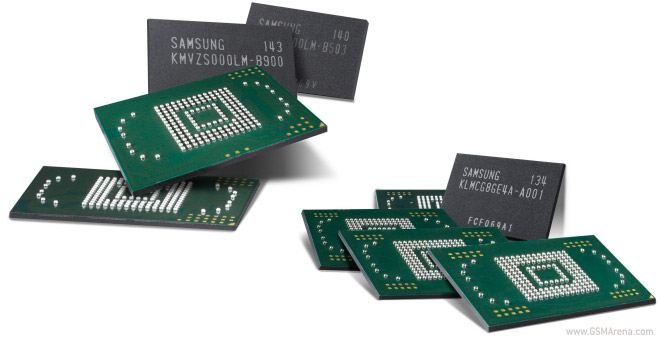 The eMMC 5.1 chips support "Secure Write Protection," which allows only select users to access secure areas of the storage. Another extra is the command queue that promises to improve multitasking and UHD video playback.
The highest capacity chip, the 64GB one, can do sequential reads up to 250MBps and sequential writes of 125MBps. Samsung chips from a couple of years ago promised the same read speeds but only 50MBps writes.
For non-sequential access the new generation chips do 11K and 13K IOPS for reads and writes respectively. The older chips fall way behind here with 5K IOPS reads an 2K IOPS writes. Samsung also points out that the embedded memory chips are much faster than even speedy microSD cards.
The company continues to develop Universal Flash Storage, UFS, that promises three times the speed of eMMC chips at a similar price point.