Chrome OS fans rejoice today as Samsung has launched its second generation Chromebooks as well as the first ever Series 3 Chromebox.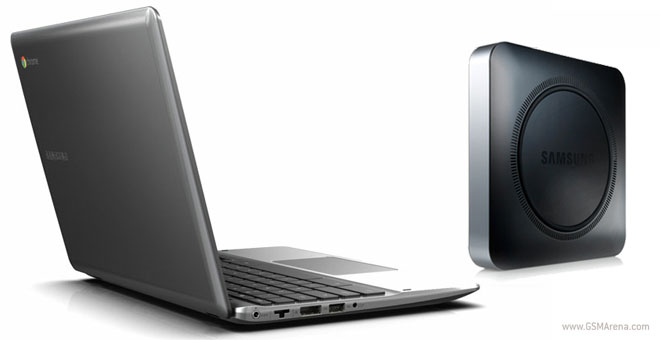 The refreshed notebook line-up also marks the rollout of a major update of the Chrome OS, which features enhanced security options, better integration with Google Drive, better offline capabilities and updated apps.
The second new Google-powered computer carries the name Series 3 Chromebox, and is basically a nettop comes with a 1.9GHz Intel Celeron B840 dual-core processor, 4GB of RAM and 16GB of SSD storage for the occasional file needed to be available offline. The Intel HD Graphics 3000 enables the use of up to two 30-inch displays via DisplayPort. The Chromebox also comes with 6 USB 2.0 ports. Naturally, there's Wi-Fi, Ethernet and a combined headphone and mic jack.
The newly announced Samsung Chromebook belongs to Series 3 and features an Intel Celeron 847 dual-core CPU clocked at 1.3GHz bundled with Intel HD 3000 graphics, 4GB of RAM and 16GB of SSD storage. Connectivity is covered with Wi-Fi, Ethernet and an optional 3G chip. There are also two USB 2.0 ports, 1MP HD webcam, 4-in-1 memory card slot and a DisplayPort, instead of a VGA.
Sounds great? Prices aren't bad either. The Chromebox costs $300 and the Series 5 Chromebook goes for $450 for the Wi-Fi-only variant and $550 for the 3G version.