The iFixit team has been all over Samsung's latest offerings in both the smartphone and wearable departments. The latest gadget to pay their tool shop a visit is the Gear Fit.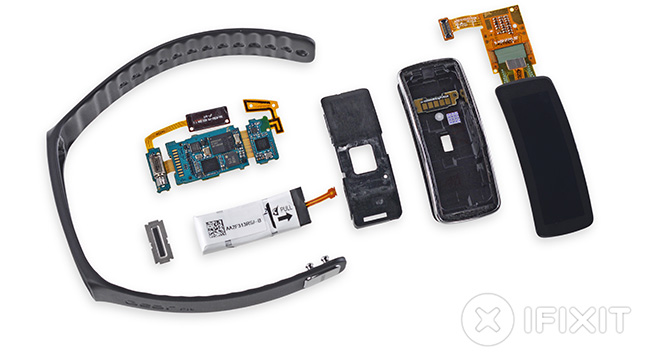 The Gear Fit is easily removable from its wristband with a simple push and this enables wristband makers to offer a wide variety of options. As you'd expect in a device that's so small, everything is soldered on the main chip with only the display, battery and shell being stand alone parts.
There's 16MB of flash memory located next to the 32-bit 180MHz ARM Cortex CPU. Interestingly, the Broadcom dual-band 802.11n Wi-Fi, Bluetooth 4.0+HS chip packs an FM receiver on it.
Overall, iFixit rates the repairability of the Gear is 6 out of 10, which isn't optimal, but it's okay. You can replace the battery of the Gear Fit without having to go to a Samsung service representative to do so, but you have to have at least some skills with the tools.
The Gear Fit is in stock now over at major online retailers in the UK, costing £179.98 just as expected. Your only color option is black at this point, with the other colors expected to become available very soon, as the Gear Fit launched just a few days ago, on April 11.
Head over to our extended hands-on article of the Gear Fit to find out more of the device.