Samsung has updated its Milk Music app and the description of the app listing compatible devices reveals the company is preparing to unveil a Galaxy Tab S Pro tablet. The upcoming slate is likely to have its launch at the Mobile World Congress in March.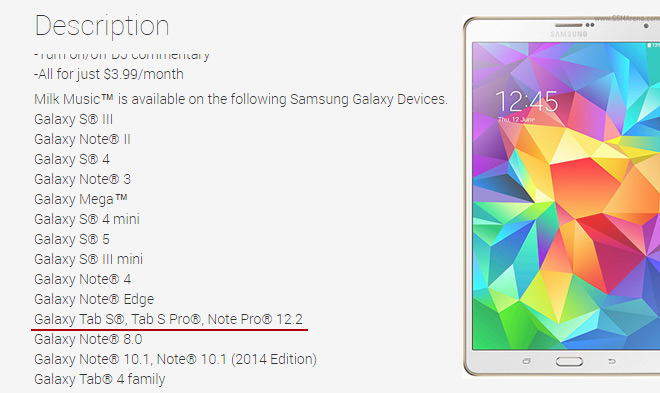 So far, nothing of the tablet has been leaked but its name. Still, this gives us a bit of an idea what it's going to be about. The Galaxy Tab S line-up features Super AMOLED displays and the Pro moniker is most recently used by Samsung multiple times already for its Galaxy Note Pro 12.2 tablet.
Therefore, we wouldn't be surprised to see a Galaxy Tab S Pro 12.2 join the Galaxy Tab S 8.4 and Galaxy Tab S 10.5. It's true that the company also used a Pro moniker for its high-end Galaxy Tab Pro 8.4 and Galaxy Tab Pro 10.5, but the company is believed to stick the Pro moniker only to its largest slates going forward.
In any way, both Galaxy Tab S members are powered by the Exynos 5 Octa 5420 chipset, so the upcoming Tab S Pro is likely to feature some sort of home-baked chipset as well (hopefully Exynos 7420). The resolution of the 12″ Super AMOLED display of the Tab S Pro ought to be 1600 x 2560 pixels, like the rest of the family. Surely, the new tablet will also be as thin at 6.6mm or even less, due to the larger footprint. Expect more information as MWC draws closer.