Samsung has been trying to bolster Samsung Galaxy Tab sales by offering free goodies instead of lowering the price. The latest offer is for the UK and comes to the tune of £200 worth in the form of an "entertainment package". It's not as good as it sounds though…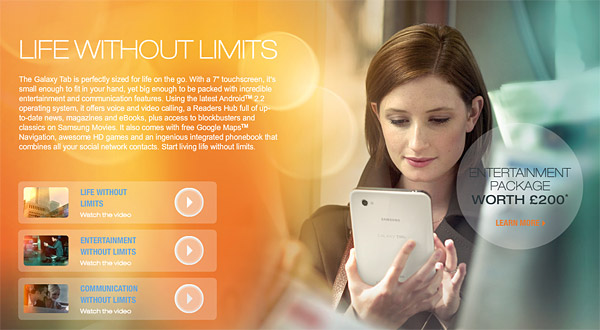 £200 of free stuff can make the Samsung Galaxy Tab price easier to swallow (and more competitively priced against the Apple iPad). But when you read the list of what you get, the excitement drops.
It's not like the free keyboard dock that came with the Galaxy Tab in Spain. Nope, it's 50 songs from emusic.com, 15 movies from Samsung Movies, 7 games from Gameloft (5 actually since 2 of those are preinstalled) and 5 ebooks from WHSmith (the books should cost £25 or less in total).
I would have preferred the keyboard dock, which costs £70, or at least the Multimedia Dock plus the portable speakers (for a total of £60). Anyway, the promotion will be available until February 28, 2011.