We are no strangers with the Samsung Galaxy Tab 7.0 Plus. The first time it graced us with its presence was just for too short and we couldn't fully test it in the usual GSMArena fashion.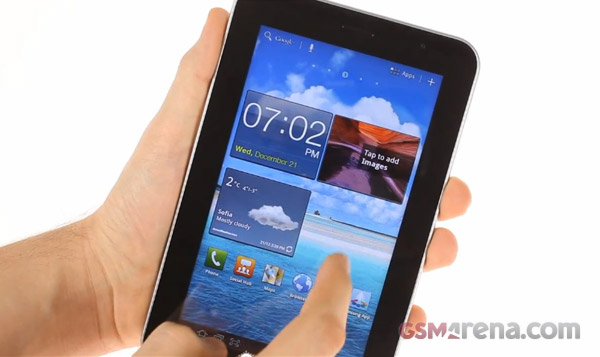 Now though, this 7.0-inch Android tablet from Samsung is here to stay and we are ready to get down to business.
Let's begin with the unboxing. The Galaxy Tab 7.0 Plus is considered the budget sibling of the Galaxy Tab 7.7, so there's nothing that made us wow when we opened the box. You get the standard modular wall charger with USB cable, one-piece headset with extra ear buds and documentation.
Unfortunately, this particular unit comes with a white back cover, which isn't as good looking as was the brushed-aluminum look and feel of our previous Galaxy Tab 7.0. Still, it's not unpleasant to look at.
Because we already did our usual tour of the tablet in our previous hands-on, let's get straight to the user interface, which our previous unit had troubles showing.
The Galaxy Tab 7.0 Plus runs Android Honeycomb 3.2 with the Samsung's TouchWiz skin on top and this spells out for a great combination. It provides a great deal of customization and adds a lot useful widgets, which make the overall experience top notch.
While we put the Galaxy Tab 7.0 Plus to bake in our review oven , here's the unboxing and user interface video of it.