The Samsung Galaxy S got decent support from its manufacturer. The smartphone launched with Android 2.1 Eclair, but got a Froyo update shortly after and eventually got a pass to the land of Gingerbread.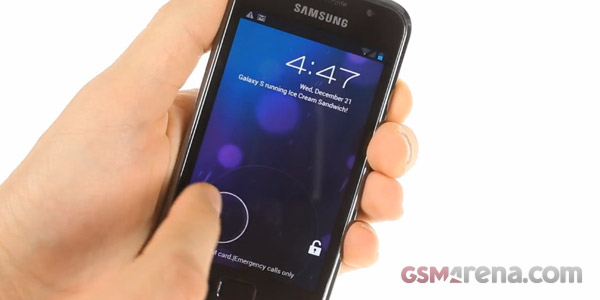 Sadly, with the latest release of Android 4.0 Ice Cream Sandwich, Sammy is pulling the plug on the Galaxy S and the company won't be releasing an update for the year-and-a-half old smartphone. But fret not, the independent Android devs community came to the rescue and released a stable, fully functioning, fast running Ice Cream Sandwich ROM for the Galaxy S in surprisingly little time.
Naturally, there are some preliminary requirements to get Ice Cream Sandwich running on your Galaxy S. You can find a lengthy tutorial that will guide you through the whole process by following the source link below. As usual, though, we have to warn you that this will invalidate your warranty and if you don't know what you are doing you might end up damaging your smartphone.
Now let's cut to the chase! Here's the video demoing Ice Cream Sandwich on the Samsung Galaxy S.
The ICS-running Galaxy S is not Galaxy Nexus-smooth, but it's certainly decent, so there's no problem adapting this for everyday usage. And the whole update process only takes about half an hour, so you can apply it in your lunch break.
Impatient already? Head to the source link and get started right away. Just don't forget to come back after that and share with the rest of us how it went.
A huge thanks goes to the almighty developers who made this possible.