Samsung's mobile division is all about filling the market voids and creating unique niches (like the Galaxy Note). The latest device to come out of the Koreans is a 5-inch, extra cheap dual-SIM droid with a dual-core CPU.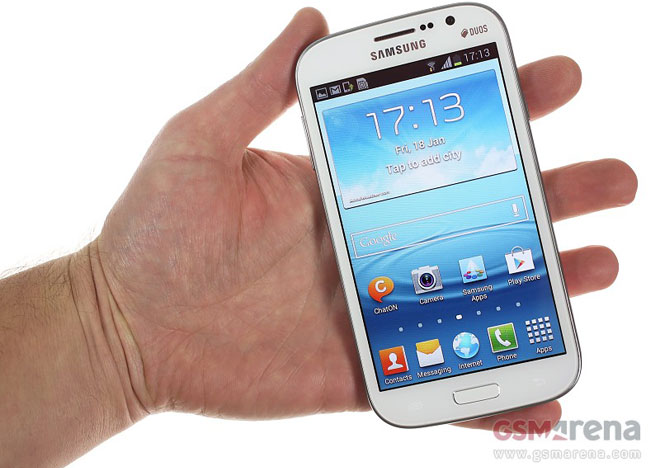 Meet the Galaxy Grand Duos GT-I9082. Making the comparison between it and the surprisingly popular as of late Micromax A110 is inevitable, but let's focus first on what the Galaxy Grand has to offer.
Built around the unimpressive at first sight 5″ TFT LCD display with a WVGA resolution, the Grand sports a 1.2GHz dual-core processor, 1GB of RAM and 8GB of internal storage (easily expanded thanks to the microSD card slot).
Keeping the price as low as possible was the main objective here, but despite this, Samsung has included a 8MP snapper with LED flash at the back and 2MP camera at the front. Measuring 143.5 x 76.9 x 9.6 mm the Grand's weight feels reasonable at 162 grams.
Popping the back cover open unveils a 2100mAh battery, which is dwarfed by the Galaxy Note II's 3100mAh unit, but should still perform decently come battery test time considering the less power-consuming resolution and chipset.
Due to the unstable nature of the prototype we've got, a video of the user interface isn't in order just yet. However, with Android 4.1.2 Jelly Bean glazed with TouchWiz Nature UX, the Grand sports some of the cooler features Samsung has implemented in its more high-end offerings like Direct call, S Voice and Pop up play.
Despite being loaded of cool software features, the Grand is quick and snappy. We didn't experience any stuttering even with videos playing in Pop-up play mode.
Everything sounds great, but the Grand has its issues. One of them is its screen. While colors look okay when you look at it directly, contrast starts to decrease the moment you tilt the display at an angle. That's understandable, though, when you consider that its meant as a poor man's Galaxy Note II.
We are already busy doing a preview of the Galaxy Grand, and it should appear on our homepage in some of the following days.