Yesterday's Samsung Android event in USA was about Verizon's exclusive Samsung Continuum. Lots of people were rooting for a Nexus Two announcement, but it seems this won't happen in a while.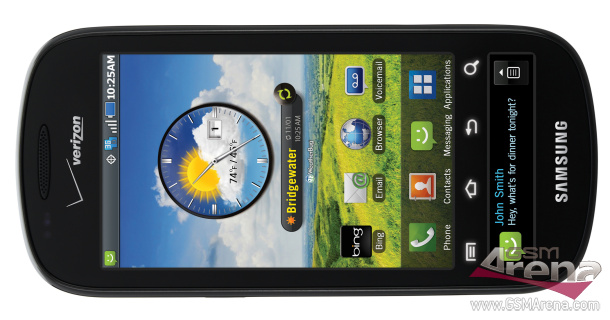 Samsung Continuum is the dual-screen Galaxy S we've already met in October and is a Verizon exclusive. It packs a 3.4-inch Super AMOLED screen plus 1.8-inch Super AMOLED ticker status display with four capacitive buttons between them. All this occupies the front.
To be honest, all this sounds much cooler than it is in the reality. It turns out that the big screen, the capacitive control keys and the small display are actually one 4-inch Super AMOLED unit we see in every Galaxy S divided artificially in three parts. Clever? I think not.
The rest of the specs are pretty much the same as any other Galaxy S phone – a 1GHz Hummingbird processor, 5 megapixel camera with LED flash and HD video recording, full connectivity package and microSD slot with 8GB card included.
Continuum has one more interesting feature – a capacitive grip sensor on the bottom sides of the phone, which turns the small status display on immediately after you take the Continuum in your hand.
Samsung Continuum runs on Android 2.1 Eclair and will get Froyo update in the future. I suppose it is really hard to divide the Android OS to work that way, so I suggest Samsung start working on Gingerbread instead.
Now back to that 1.8-inch status screen. As its name suggests it shows different kind of statuses – weather, missed calls, new messages, etc. Third-party apps will be allowed to use it too.
Samsung Continuum will hit the Verizon's stores on 11 November for 200 US dollars (after 100 US dollars mail-in rebate) on two-year contract.