Samsung Continuum is another Galaxy S phone to hit Verizon this month. The interesting thing about this one is the two Super AMOLED capacitive screens on its front. The smaller unit is dedicated to all kind of statuses icons such as new messages, emails, missed calls, weather, etc.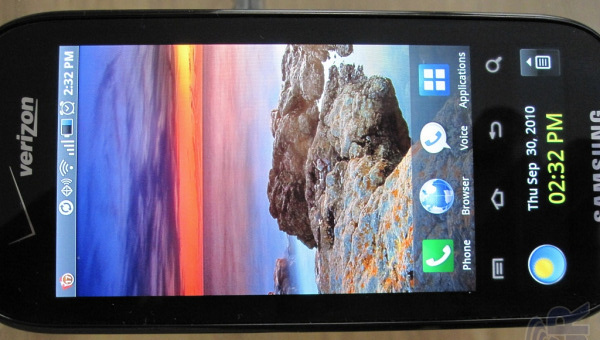 Samsung Continuum specs are pretty much the same as all previous Galaxy S phones – big Super AMOLED capacitive WVGA display, a 1GHz Hummingbird processor, 336MB RAM and all kinds of connectivity features.
When the phone is active, the bottom display strip shows weather information, the date and the time. The rest of the time this will be your status indicator – new messages and emails, missed calls, voice mail, IMs, social notifications, etc. Thanks to a special grip sensor, the display will light up every time you pick up the phone.
That's sums it up. Samsung Continuum (SCH-i400) is another Galaxy S, this time for Verizon. According to some recent roadmap leaks it should hit the stores by the end of this month.