If you've missed it, the Samsung NX series comprises of cameras that use a big-size sensor and mirror-less technology.The new cameras include the NX20, which replaces the NX10, then the NX210, which replaces last year's NX200, and an entirely new entry level model, the NX1000. All the three new digicams have 20.3MP APS-C sized CMOS sensors, an ISO range up to 12,800, 1080/30p video recording and yes, Wi-Fi connectivity.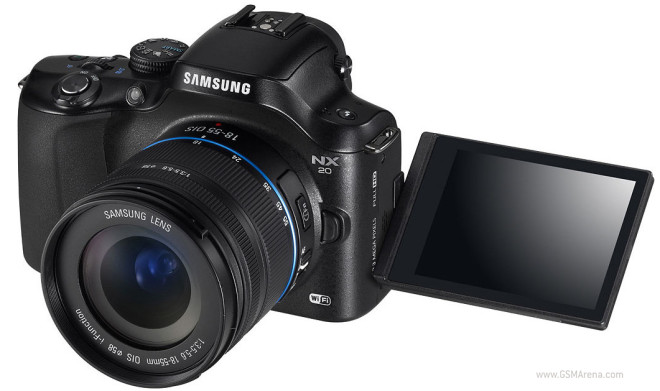 The Wi-Fi connectivity allows the cameras some nifty "Smart Camera" capabilities, such as automatically backing-up images when you're around your home Wi-Fi network, but also control of the camera via a 'remote viewfinder' app on your smartphone. And finally, direct uploading to online social and cloud-drive services. You can have your photos emailed or posted on Facebook directly from the camera, for instance… Impressive stuff, especially having in mind that the NX series produces some serious quality pics thanks to the big image sensor and nice optics.
Samsung NX20
The NX20 is the only one of the threesome that actually looks like a mini DSLR. It's even got an electronic viewfinder so you can frame and shoot just like you would on one. The NX 20 is a lot like its predecessor, the NX1, on the outside. There's even a full-size flash hotshoe.
The display around the back is a 614k-dot AMOLED 3-incher of the swivel type. The NX20 will be selling for $1,099, along with the kit 18-55mm f/3.5-5.6 lens.
Samsung NX210
The NX210 has a similar 614k-dot, 3-inch AMOLED screen, but there's no electronic viewfinder this time and the whole body has a different design and a more stylish appearance. The NX210 will ship with an 18-55mm f/3.5-5.6 kit lens for $899.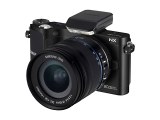 Samsung NX1000
And finally, the newcomer, the NX1000 is a more of a entry-level mirrorless camera. Let not the description fool you as it's a really nice piece of kit with even more stylish design as the camera will be available in white, black or even pink. The NX100 is equipped with a 3-inch screen again, but it's an LCD as opposed to an AMOLED one. The kit lens here will be a 20-50mm f/3.5-5.6 lens for $699. All three cameras are expected to go on sale in June.