Alongside the Windows Phone 8-running ATIV S smartphone, Samsung also announced three Windows 8-powered slates – the 10.1″ ATIV Tab and the 11.6″ ATIV Smart PC and ATIV Smart PC Pro.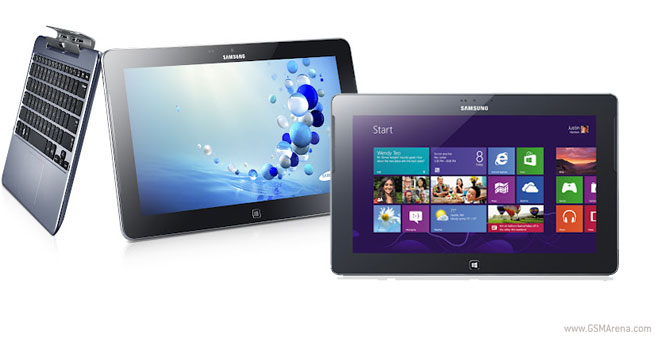 The latter duo will be coming with detachable keyboards with touchpads, just like the ASUS Transformer tablet, and S Pen-support.
Samsung ATIV Tab
We start with the Samsung ATIV Tab. It's powered by the same 1.5GHz dual-core processor as the ATIV S, but comes with 2GB of RAM. The LCD display measures 10.1″ and has a resolution of 1366 x 769 pixels. The ATIV Tab has a very slim 8.9mm profile and weighs 570 grams, which is pretty decent for a tablet of its size. At the back, there's a 5MP shooter, while a 1.9MP front-facing camera sits above the display.
The Samsung ATIV Tab will come with either 32GB or 64GB of storage and will offer microSD card slot with support for up to 64GB cards. Connectivity options include NFC, microHDMI, Wi-Fi 802.11 a/b/g/n and Bluetooth 4.0. With a 8,200mAh battery at the back, this slate is sure to last quite long.
Samsung ATIV Smart PC & Samsung ATIV Smart PC Pro
The Samsung ATIV Smart PC and Samsung ATIV Smart PC Pro are hybrid 11.6-inch tablets, which come with a detachable keyboard docks with handy touchpads. Both of them run a full version of the upcoming Windows 8 OS, but are also backward compatible with Windows 7.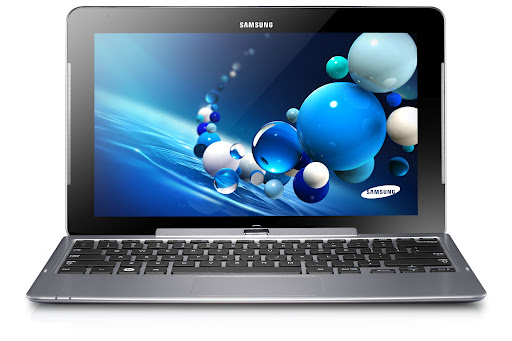 In addition, both slates come with the Samsung S Pen, which will make most of the screen's support of 1024-levels of pressure. The ATIV Smart PC Pro sports a full HD resolution screen, while the ATIV Smart PC makes do with a display of just 1366 x 768 pixels. Both have 10-finger multi-touch support and boast 400-nits of brightness.
The ATIV Smart PC Pro weighs 884 grams without the keyboard dock and 1.6kg with it, while the ATIV Smart PC is lighter at 750 grams without a dock and 1.48kg with it. The difference in the weight is due to the Pro's Intel Core i5, 4GB of RAM and up to 256GB SSD drive inside it.
Designed for the less demanding users, the ATIV Smart PC is powered by an undisclosed next generation Intel Atom processor, 2GB of RAM and offers a 128GB SSD. Both slates come sans optical drives.







Samsung ATIV Smart PC & Smart PC Pro
The battery life of the slates is rated 13.5 hours for the Smart PC and just 8 hours for the Smart PC Pro. Unfortunately, the keyboard docks don't pack additional juice. Both slates feature 3G and LTE connectivity, as well as Wi-Fi 802.11 a/b/g/n and Bluetooth 4.0 as well as microSD card slots. The ATIV Smart PC Pro also offers a USB 3.0 port.
Both keyboard docks feature 2 x USB 2.0 ports and one mini-HDMI port for connecting to an external high-resolution display. Availability and pricing isn't available at this stage.