It seems RIM has been trying to get rid of their entire BlackBerry PlayBook stock and the emphasis today is on the 64GB version. Last week they had all models on promo prices ($199, $249 and $399 for 16GB, 32GB and 64GB respectively). Today, in a surprising move, we find the three models all equally priced at $299. Obviously, it's only the 64GB version that has its price cut down from the original fire sale in December.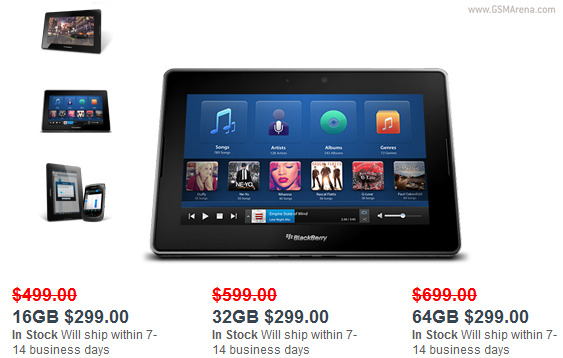 The new sale ends on February 4th.
If you are still wondering whether you should get a Playbook in the first place, it might help you to know you can get the Android Market up and running on the PlayBook (though not without some system files tinkering). Not all Android apps will work on the tablet, but it is still better than relying solely on the BlackBerry App World. For installing the Android Market you need to root your PlayBook and bunch of other stuff you can read all about here at CrackBerry.com.
The offer is nice, though the only way these equal prices make sense is RIM trying to get rid of the 64GB stock. Here's the link to RIM's US store.
Prices in the UK have remained unchanged with the Playbook costing £169 for the 16GB and £329 for the 64GB.