Qualcomm seems to be pretty proud of its Quick Charge 2.0 technology, that is an integral part of some high-end smartphones which use its top of the line chipsets. The Motorola Nexus 6 is in this situation, and Qualcomm has used this particular device in a new promotional video for Quick Charge 2.0.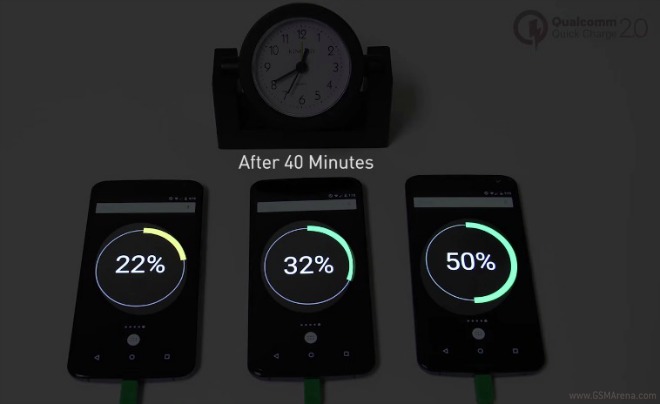 Three of them, to be precise. They're said to be identical, except each uses a different charger. The leftmost unit has a 5V 1A charger, the center one gets a 5V 2A charger, while the Nexus 6 on the right works with a Quick Charge 2.0 enabled charger.
What happens is quite clear, this being a Qualcomm-made video. As you can see in the screenshot above (and the full video embedded below), after 40 minutes of charging, the Quick Charge 2.0 technology has managed to top up the Nexus 6′s battery all the way up to 50%. The conventional chargers have done worse, the 2A unit managing to charge the battery to just 32% after the same amount of time, while the 1A model only took it to 22%.
So you might conclude that Qualcomm's Quick Charge 2.0 is the fastest method of juicing up your beloved smartphone. But Oppo sure thinks such an assumption would be wrong. The Chinese company has reacted to Qualcomm's video with this image posted on Twitter: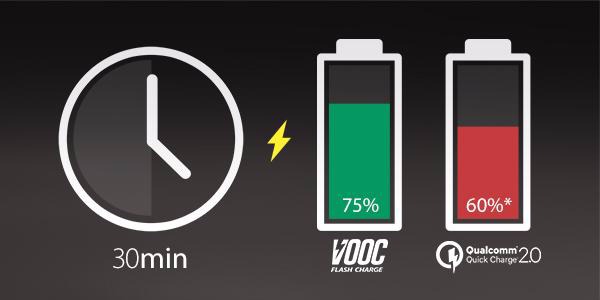 It's pretty obvious that Oppo is boasting that its VOOC quick charging technology is even faster than Qualcomm's, being able to charge a phone's battery up to the 75% level in just 30 minutes. Then again, it's unclear how it compared VOOC to Quick Charge 2.0. The figure next to Qualcomm's tech says it can take a battery from zero to 60% charge in 30 minutes, but we haven't seen that happening with the Nexus 6 in Qualcomm's own test – it only reached 50% after 40 minutes.
Anyway, Oppo's tech only works with a few of its handsets, whereas Quick Charge 2.0 might make it into many more devices since so many companies are using Qualcomm's chipsets.