The Oppo Find 7 was recently announced and while its Li-Po 3000mAh battery isn't exactly small, its 5.5″ QHD display and Snapdragon 801 chipset are quite the battery drainers. To battle this and give users some peace of mind, the Find 7′s charger is capable of charging the phone's battery to 75% in only 30 minutes.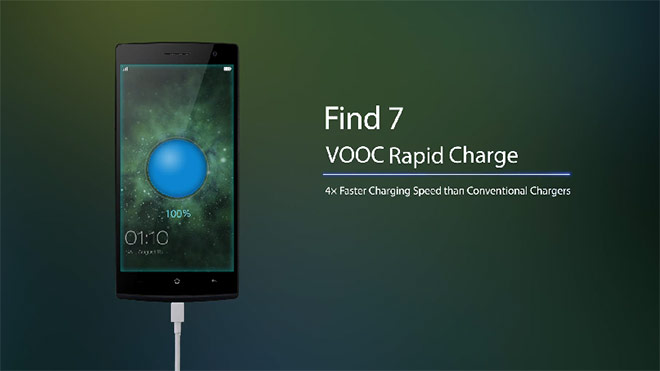 The company has aired an ad to showcase all the capabilities of the Find 7 charger in a rather dramatic way. The Find 7′s battery needs just five minutes of charging to support a two-hour call, while a little over an hour will give you a full charge. The same applies for the Oppo Find 7a, too.
Now, the 4.5 Amp charger isn't the only one to thank, as in fact, a large portion of the fast-charging skills of the Find 7 lie in its battery. The charger has been slightly altered to provide enough power to the phone. If you were to plug a regular battery, chances are it's going to end badly.
Here's what Oppo says on its website regarding the tech, "Specially designed for the most comfortable experience, the Find 7 contains five layers of thermal protective coating to prevent the device from overheating while charging."
Anyway, now that you're filled with the gist of it, check out the VOOC fast charging system ad below.
The Find 7 is going to take another few weeks to go on sale, so for now you have to make do with our comprehensive Find 7a hands-on. The more modestly spec'd brother of the Find 7 is also in for a full review treatment, so stay tuned for this one as well.